Horncastle Arena
Christchurch
Our Land and Water joined Grow 2019: Boma NZ Agri Summit as a channel partner. The two-day event, developed with MPI, reached a broad audience of about 600 people in government, business, banking, the tech sector and plenty of farmers. Here are our top 10 takeaways from the event.
1. We Have a LOT of Mouths to Feed
"We have to grow as much food in the next 30 years as we have done through the recorded history of humanity"
– Raymond McCauley, principal at Exponential Biosciences
By 2020 there will be 7.8 billion on the planet. By 2050, there will be 9.8 billion.
With this rate of growth, we have to grow as much food in the next 30 years and feed as many humans as we have done through recorded history for humanity – and in 1/400th of the time. While there's enough carbs to go around, we're heading for a world protein crisis, says Raymond McCauley.
2. Labour Shortages Are a Growing Global Problem
When adopting new technology for farms, what do you think is most important for the farmer?
41% of the audience voted for reducing labour workload
Farming is becoming increasingly difficult, with a growing demand for food production as world population is increasing. Herd size and intensity is increasing, while labour availability is decreasing, says Harry She of 'cow collar' company Halter.
Labour is rapidly becoming the biggest issue facing global agriculture, says robotics entrepreneur Steven Saunders. With 10 billion mouths to feed by 2050, massive amounts of labour will be required to collect crops – and farmers are an aging population. This is leading to wage increases of over 40% in part of the US – with significant impact on production of specialty crops that are labour-intensive.
That means there's growing demand for technology that reduces workload on farmers, such as robotics for harvesting, and wearable or implantable livestock monitoring devices. This technology also potentially means less overwork and more time with family and community for farmers, with positive benefits for mental health.
3. Food and Fibre Waste is Unforgivably High
"If food waste were a country by itself, it would be the 3rd largest emitter of greenhouse gases, after the US and China"
– Amy Keller, PurePlus
At least four presenters tell us food waste is one of the main issues of our time. We also learn from Bernadette Casey that textiles and clothing are the fastest growing waste stream in many countries.
One-third of all the food in the world is wasted, costing $1.2 trillion annually, says Abi Ramanan of Impact Vision (and several other speakers). David Davies, founder of EscaVox, gives it a more local context: Every year there is $20 billion of food wasted in Australia.
Food waste is a market inefficiency not seen in any other industry, says Amy Keller, founder of PurePlus (which makes a nutritional powder from food waste). The problems are structural (weather, roads, packaging), and economic and cultural (produce may be overpriced in store, too unprofitable to harvest, consumer servings too large, visual standards too high). She shares more eye-watering statistics:
Of what is grown, 40% becomes food waste
Vegetables and fruits make up 50% of all food waste
If 50% of food waste is reduced by 2050, avoided emissions could equal 26.2 gigatons of CO2
800 million people in the world don't get enough to eat, and 1.9 billion weigh too much
When we waste less, we'll feed more. We already produce enough food to feed 10 billion people – everyone today and everyone expected by 2050.
Reducing food waste is the only action that unlocks solutions for climate, hunger, nutrition, water scarcity, economic expansion and national security, says Amy. Food solutions are more powerful that energy in reversing climate action.
4. Agriculture's Tech Revolution is Here
"We're living in absolutely amazing times, where scientific innovation and technological breakthrough are converging to solve humanity's biggest challenges"
– Zenia Tata, XPRIZE
If you want innovation you have to incentivise people to work on it, says Zenia Tata of Xprize, the NGO that runs competitions to encourage technological development. Xprize uses 3 key incentives: money ("nothing gets done without it"), the chance to be first in a new industry, and the chance to do something that will do some good in the world.
Agritech in the very near future will bring us perfectly ripe avocados at the supermarket (thanks to hyperspectral imaging), the ability to text and tip our coffee grower from a cafe on the other side of the world (thanks to blockchain), longer product shelf-lives (thanks to food-tracking devices), cheap whiskey that tastes like it's 30 years old (thanks to cellular agriculture techniques), cows that text their farmer when they're in labour (thanks to implantable chips), and virtual fences that keep cows off wet ground (thanks to wearable electronics for livestock).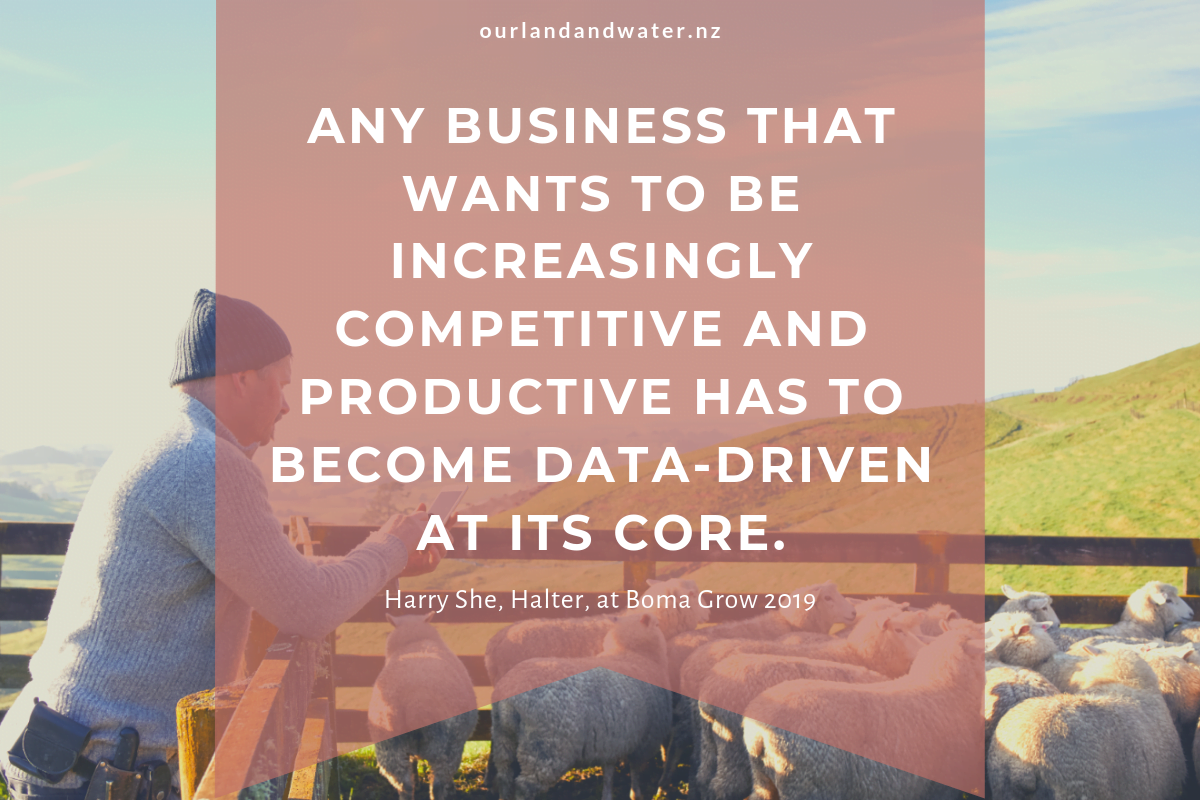 5. Data Drives Success
"The great opportunity for New Zealand is to use a data network to show the provenance of your goods all the way into the markets you're exporting to"
– David Davies, EscaVox
What percentage of data of a business is untapped? About 90% for most businesses – even the big ones, like Netflix and Instagram.
Food tracking data can be used on a blockchain to give end-to-end supply chain traceability. Data about quality at the point of processing can be combined with data about origin to make an accurate prediction about quality when produce reaches consumers.
And perhaps most importantly for New Zealand agriculture, growers and farmers using good process and practices can use data to convey that to the end consumer.
"Any business that wants to be increasingly competitive and productive has to become data-driven at its core," says Harry She, head of data science at Halter.
Two notes of caution were sounded: the danger of data monopolies was emphasised by David Davies of EscaVox, and Zenia Tata of Xprize cautioned us not to lose our humanity. "How do we understand the future? Not with data but with stories."
6. Authenticity Adds Value
"Relentless attention to detail is required to achieve deep authenticity"
– Rachel Taulelei, CEO of Kono
Our planet and its people have been growing food for tens of thousands of years – and amid all the talk of disruptive technology, several speakers showed why that's crucial to remember.
Our food co-evolved in living systems with microbes, fungi and minerals over thousands of years, says Kay Baxter of the Koanga Institute (see also our Innovative Agricultural Microbiomes research). After 30 years of collecting New Zealand's endangered heritage seeds, Kay believes the time is right for bringing heritage plants – genetically diverse, nutrient dense – back to the mainstream.
"Look to the past as we look to the future," says Zenia Tata of Xprize. "Learn from the past and from nature." She highlighted biomimicry as one of 30 major trends pushing us towards the future. "We have to learn from the earth. How did our planet do this? There are 4.5 billion years of prototyping all around us."
This was echoed by Rachel Taulelei, CEO of Kono, a Māori food and beverage brand with a turnover of $70 million, guided by cultural imperatives, 4000 owner families and a long-term intergenerational business plan that looks 500 years into the future.
"We need to look at ancient ways of existing in harmony with taiao [nature], bring them into today's noisy environment and try to make them relevant. Relentless attention to detail is required to achieve deep authenticity."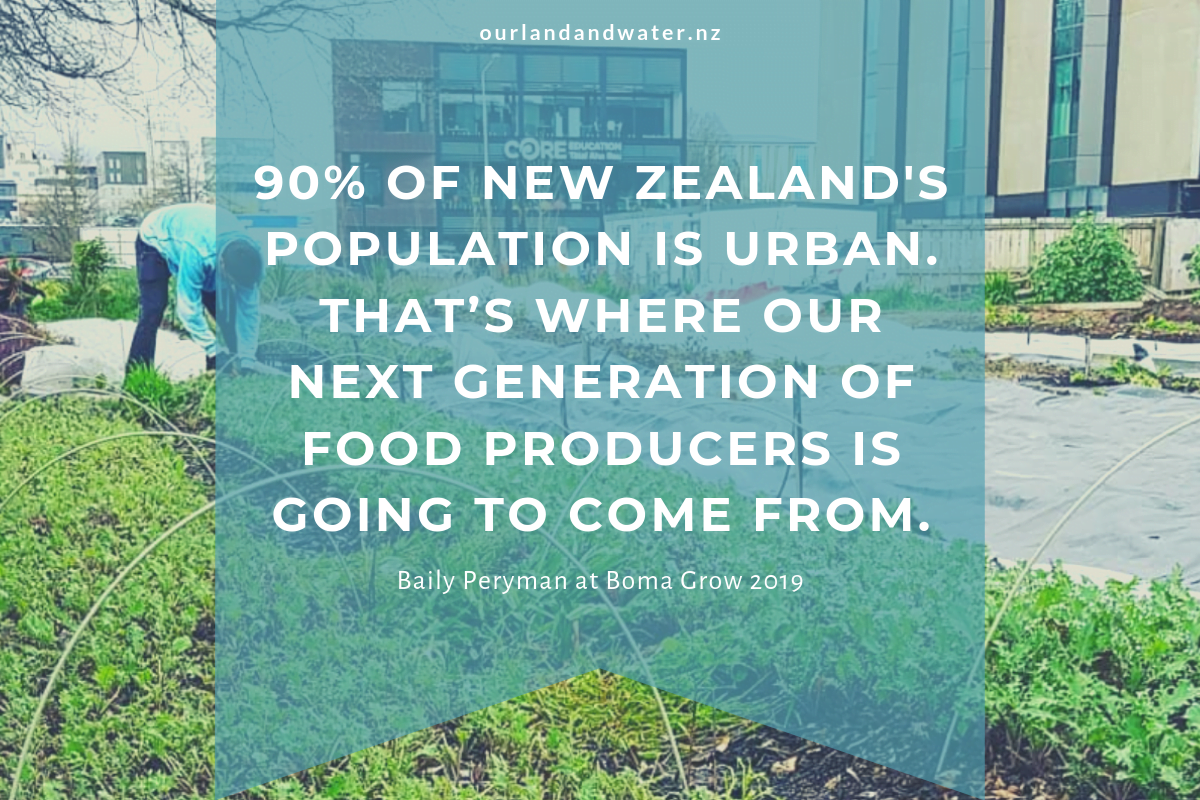 7. Urban-Rural Understanding is Crucial
"90% of NZs population is urban-based. That's where our next generation of food producers is going to come from"
– Baily Peryman, Cultivate Christchurch
"New Zealanders must be satisfied that our farming sector is sustainable," says Lain Jager, chair of government advisory group the Primary Sector Council. This is particularly critical to ensure future leadership and labour. "Creating an environment young people are attracted to, is about creating a sector we and our young people can be proud of."
"We need to give young people the opportunity to grow food, even just once, and it will flip a switch and give them a sense of purpose," says Baily Peryman of Cultivate Christchurch. "90% of NZs population is urban-based. That's where our next generation of food producers is going to come from."
Connecting with your community is crucial for producers who are on a transition journey, says Wayne Langford. "Take your family and your community with you. Not only will you get there faster, you'll get there stronger."
"Creating connections is the key to resilience," says Bill Kaye-Blake, who leads our Indicators Working Group research. Part of the solution could be in using statistics to challenge people's preconceptions, he said. For example, unemployment in Wairoa is twice the national average. But voting participation (which indicates connection to communities and government) is the second-highest of anywhere in New Zealand, and the rate of volunteering is over 50% higher than average for New Zealand.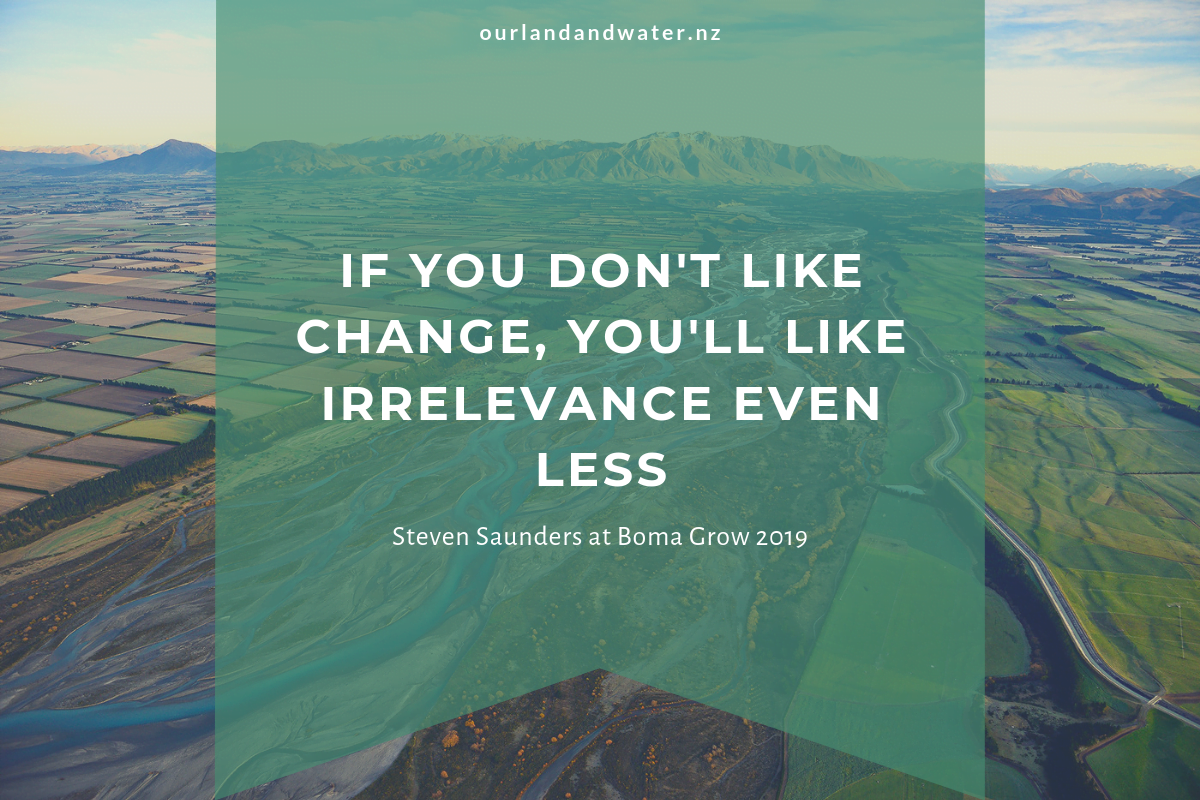 8. We're Thirsty for New Business Models and Wise Leadership
"If you were going to kill your own company as a disrupter, what would you do?"
– Melissa Clark-Reynolds, Beef and Lamb NZ
Melissa Clark-Reynolds told us that it's not technology that's disruptive – it's the business model and infrastructure that allows a technology to take off. Tech-based or product-based innovation won't fundamentally change the supply chain, she says. "We're too stuck in investing in product R&D, not business model R&D."
"The more steps in the supply chain, the more trouble you're in," says Melissa. "Our ability to get close to our consumers through our business models is where the value lies."
In a later session Lain Jager, chair of government advisory group the Primary Sector Council, was more cautious. "Getting close to the customer is part of the opportunity for some products and value chains," he says, but the basis of New Zealand's differentiation is often on the supply end – not the demand end.
"Our value chains are almost all linked value chains, and those links exist for very good reasons" – such as  geography, capability, risk. "Vertical integration is to be undertaken with extreme caution and only for very good reason."
"We need to be really, really good at building high-value value chains at scale"
– Lain Jager, chair of the Primary Sector Council
The high-value journey is hard, said Lain Jager, and we're not yet very good at it in New Zealand. "Governance quality is crucial," he says. "Social licence will not be earned simply by actions behind the farm gate."
Zenia Tata of XPrize has some advice for leaders:
Adopt a mindset of abundance. New Zealand wants to be the premier growers that feeds the top 40 million people with very high quality food. What about feeding 4 billion people with very high quality and high value food – and doing it in a way that doesn't create more of a footprint?
Harness the power of exponential technologies. Watch for convergences between AI, intelligent sensors, big data, gene editing, blockchain, robotics, drones….
Transform science fiction into science reality. Sci-fi is a creative process that allows you to place a product or service way into the future, and imagine how future people will accept and influence your product in future.
Put people in the centre of any change. They're the ones that are going to adopt it.
Her last points were echoed by Johnathon Meichtry of Amazon Web Services, who described the powerful mechanism AWS uses to ideate, develop and launch hundreds of products a year:
Start with the customer and work backwards. Before you develop a product, write a press release as if you're about to announce it to the media. Then build a business and team around it.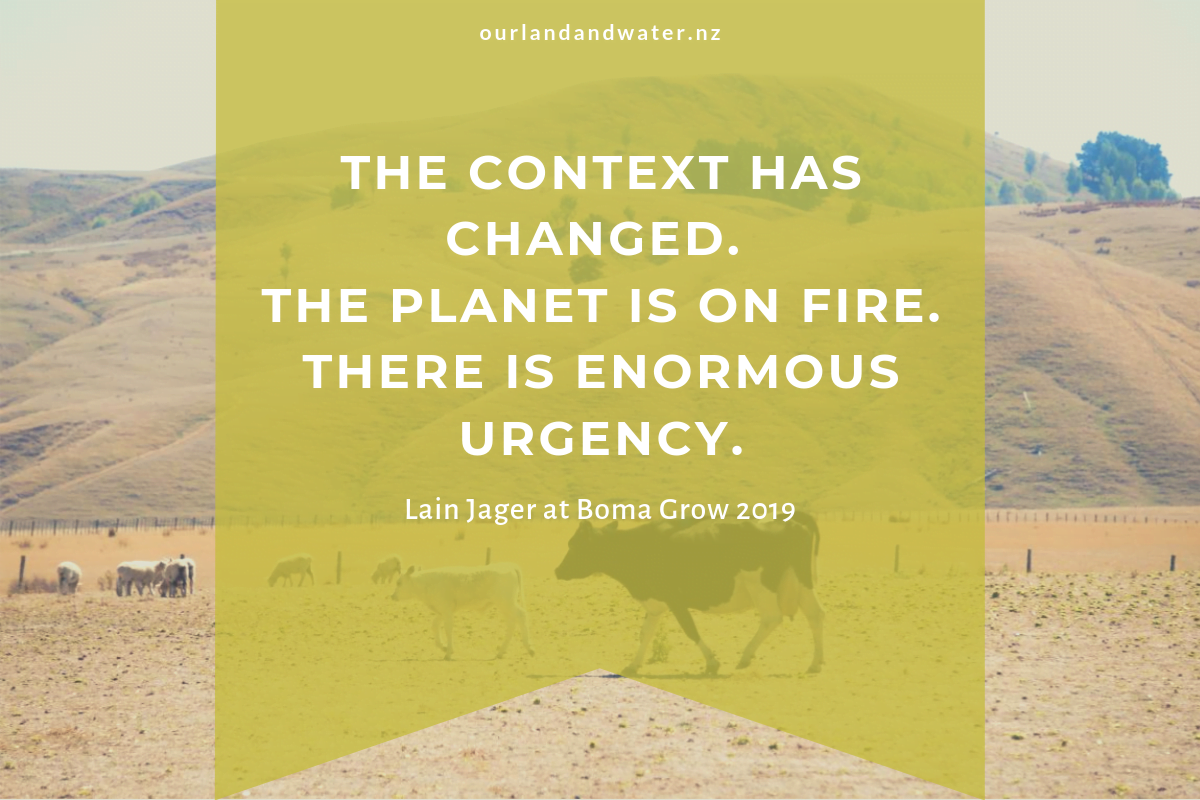 9. Climate Change Makes Everything Urgent
"The context has changed. The planet is on fire. There is enormous urgency"
– Lain Jager, Primary Sector Council
New Zealand's primary sector produces 20% of our GDP, provides one in 10 jobs – and creates just under 50% of our greenhouse gas emissions, says Lain Jager, ex-Zespri boss and now chair of government advisory group the Primary Sector Council.
"There is enormous global anxiety about climate change – a palpable sense of fear and urgency. Farmers also have a sense of fear and urgency." They're being told they need to change farming systems, plant trees, they're being blamed.
"It's an emotional dialog from both perspectives."
The sector needs time to change, he says, and capital and capability are key constraints. "Some of it is going to be messy, and that is going to upset people – but if we don't address it, that is worse."
10. Intentional Change is Coming
"We need to pull the future towards us, rather than allow ourselves to be pushed towards the future"
– Zenia Tata, Xprize
"We're farming at an interesting time," says Lain Jager of the Primary Sector Council. "Returns are good but confidence is low because of the challenges ahead."
That's why, he said, it's important to take a view on how the future's going to play out.
There are now eight billion-dollar-plus New Zealand food and fibre businesses. "Some of those businesses need to grow, probably dairy is going to be constrained – and probably, we need to add one, or two, or three billion-dollar-plus businesses."
"They're not going to grow organically or by chance. You have to back industries to grow. It's about intentionality."
Want to guess what those industries could be? Earlier, Con Williams told us that private equity firm MyFarm is investing in land-use change to hops, manuka, Rockit apples, kiwifruit, viticulture, avocados, berries, cherries, pipfruit and carbon.
"The future isn't a place you imagine," says Xprize's Zenia Tata. "We have to create it collectively. What do we grow that's good for bodies, planet and market? "
We produce the world's most distinctive, trusted food and fibre that speaks of our land, water and people. Taiao drives our prosperity, innovation and leadership. We are proud kaitiaki. We are good ancestors. We honour the place we call home.
– prototype Primary Sector Council vision
—
Sign up to our e-newsletter for updates from the edge of land and water science in Aotearoa
More from Grow 2019: