Horncastle Arena
Christchurch
Three future business models are becoming increasingly important for our agrifood industry, says Melissa Clark-Reynolds, futurist and an independent director of Beef + Lamb NZ. Penny Clark Hall presents a new model for understanding how social licence is lost, and what our primary industries can do differently. Land use is moving away from dairy, says Con Williams of farm investment firm MyFarm, who gives some insight on the industries investors are backing. Read more below.
Melissa Clark-Reynolds, Beef + Lamb NZ
"The scary thing about the Impossible Burger is not that it's plant based, it's that its profitability is so much greater than meat"
Melissa Clark Reynolds is the first independent director of Beef and Lamb NZ, and a futurist. She's here to talk about new business models and what they might mean for the agriculture sector.
It's not technology that's disruptive, she says, it's the business model and infrastructure that allows a technology to take off.
Take vertical farms: an exciting new technology, but only 20% are making money. The profitable vertical farms have found incredibly cheap urban real estate, and they use solar power, so the inputs are almost zero. The most profitable vertical farms are owned by restaurants, creating a vertically integrated business model.
It's not the vertical farm that should be frightening the NZ agriculture industry, says Melissa, but that that restaurants have found a business model that allows them to grow food around the corner.
Melissa describes the typical process of business model disruption:
Laugh and point.
Litigate or sue. (It's now illegal in the US to call anything made from plants, meat.)
Buy the startups, or abandon the market.
Once people can see new the models, they'll join them, but telling people their old model is broken almost never works.
Melissa identified 3 future business models that are becoming increasingly important for our agrifood industry:
Disintermediation
The number of steps between producer and consumer is plummeting. The more steps in the supply chain, the more trouble you're in, she says.
"The scary thing about the Impossible Burger is not that it's plant based, it's that its profitability is so much greater than meat. It's a vertically integrated model with a highly efficient supply chain – while there are 8 steps in the supply chain for meat." (Lain Jager, ex-Zespri boss, was a bit more cautious about vertical integration; read more in our Top 10 Takeaways from Grow 2019.)
"New Zealand farmers get the least percentage of the profit through the meat supply chain. Our ability to get close to our consumers through our business models is where the value lies."
Subscription models
Everything is becoming available as a subscription service – even the roof of your home (Tesla offers an EV roof as a service).
Mercedes has a US$359/m subscription service. Melissa predicts car insurance is headed for obsolescence because in future cars will remain owned by the manufacturers, leasing whatever service we want.
John Deere now has a subscription service in the US, where farmers pay a monthly fee to get farm gear in the right season. They're also the biggest investor in autonomous vehicles in the US.
In NZ you can already get cheese and avocadoes as a service ("peak millennial," says Melissa – an avocado subscriber herself), while food box subscriptions are becoming more specialised.
Commodification
Over time, the price of everything drops. The price of food relative to income is on a downward curve, says Melissa. What are we going to do in NZ as the price of food plummets?
"It's important for NZ to think about what our business models might be to add value over and above nutrition. The world can produce protein for almost nothing ­– but what we can't do is replicate flavour and the sensual enjoyment of food."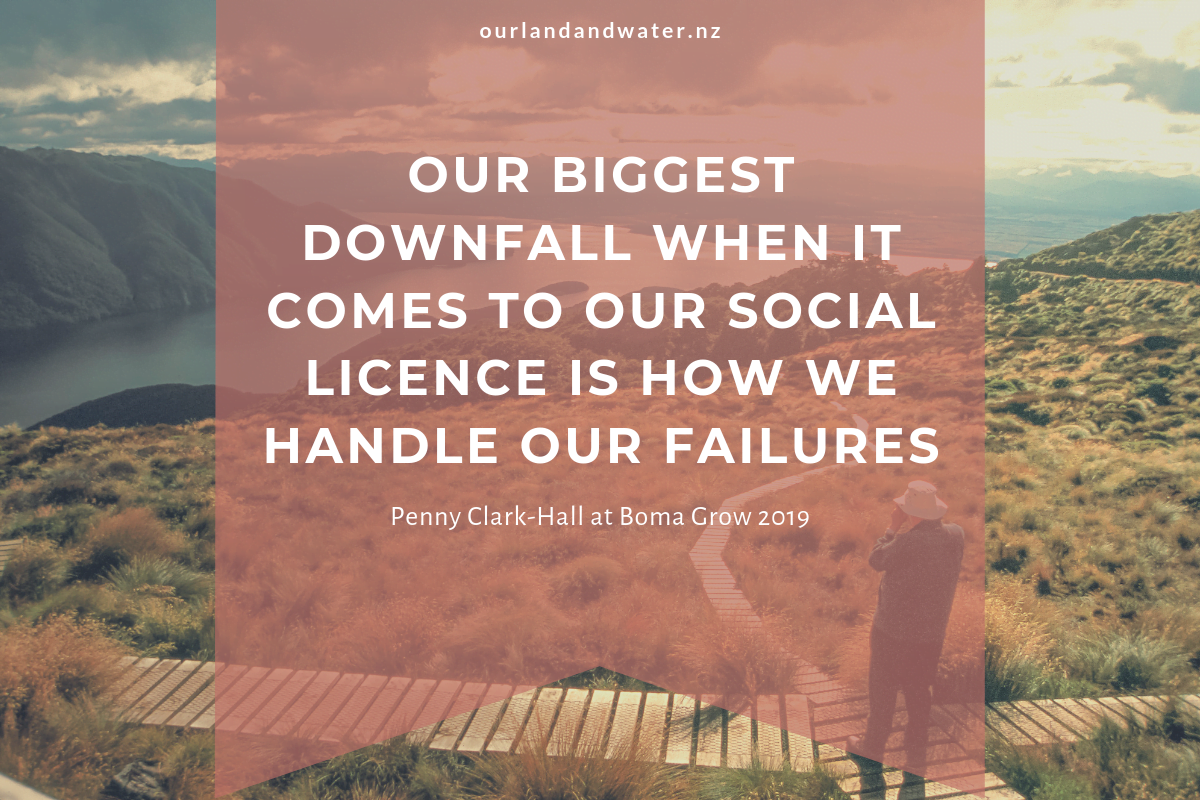 Penny Clark-Hall, SLO Consultant
"The consumer bullshit radar is on high alert. They are craving authentic experiences"
How can we earn back our social licence to operate? Trust is the foundation of social licence, says Penny (this is intuitively true, but is also backed up by our own Trust and Social Licence research.) Trust is like a currency, she says, that we fill in the good time so we can draw on it in the bad.
How we fail is vital to social licence, she says. We often get defensive and fail to take accountability.
Penny described the pathway to the shortfall of social licence to operate felt by some primary (and other) industries:
Industrialisation (post-war society valued economic security).
Society's values then evolved into higher-level moral values – but industry wasn't listening.
Society demanded action – and industry went into denial. They weren't ready to take accountability for their role.
Society strengthened their victim statement.
Industry felt angry because they felt unfairly attacked.
Regulation stepped in – then industry bargained.
Society felt validated by the regulation, so pushed for more regulations, and innovated to find more solutions.
Industry depression because it felt devalued by society.
Further regulation – finally, industry acceptance.
Penny's fascinating insight from her research is that industry's response equates to the 5 stages of coping with illness and dying. "If we're aware of this, we can do better next time."
"The consumer bullshit radar is on high alert. They are craving authentic experiences," says Penny.
"When you fail, do it bravely and with empathy to avoid losing trust. Follow it up with consistent and meaningful stakeholder engagement."
"To move from customer acceptance to approval, you must cross a credibility boundary, where you are perceived to be living your values authentically." You'll know you've achieved this high level of engagement and trust with your stakeholders, when they begin to feel a sense of ownership of your business or industry.
Con Williams, MyFarm
"If we want a higher standard of income and living, the best place to invest is agriculture"
MyFarm is a private equity firm that provides capital to make land-use change happen. So what land-use change do they consider a good investment?
MyFarms started with assets in hops, manuka, Rockit apples and kiwifruit. Key sectors now also include viticulture, avocados, berries, cherries, pipfruit and carbon.
Con explains that for a lot of producers it's difficult to get access to these crops and to access capital for land-use change. MyFarm can give access to hops and Rockit apples, which can be difficult systems to enter.
They're seeing land use starting to move from dairy – MyFarm currently has 4 dairy farms that are changing land uses. Current stats tell us that the domination of dairy hit a turning point in 2014/15, says Con. That's when dairy 'topped out', and milk production been stable since, as has the number of cows (the number of cows may now be starting to drop, he says).
Meanwhile the horticultural land area in NZ has been fairly stable, but according to MyFarm this could expand by 5% per year while forestry could expand by 0.5 million hectares, or nearly one-third.
What drives land use change, according to MyFarm?
The value proposition
Availability of suitable land and water
Environmental regulation – especially carbon trading
Momentum, being part of something that is growing
Diversification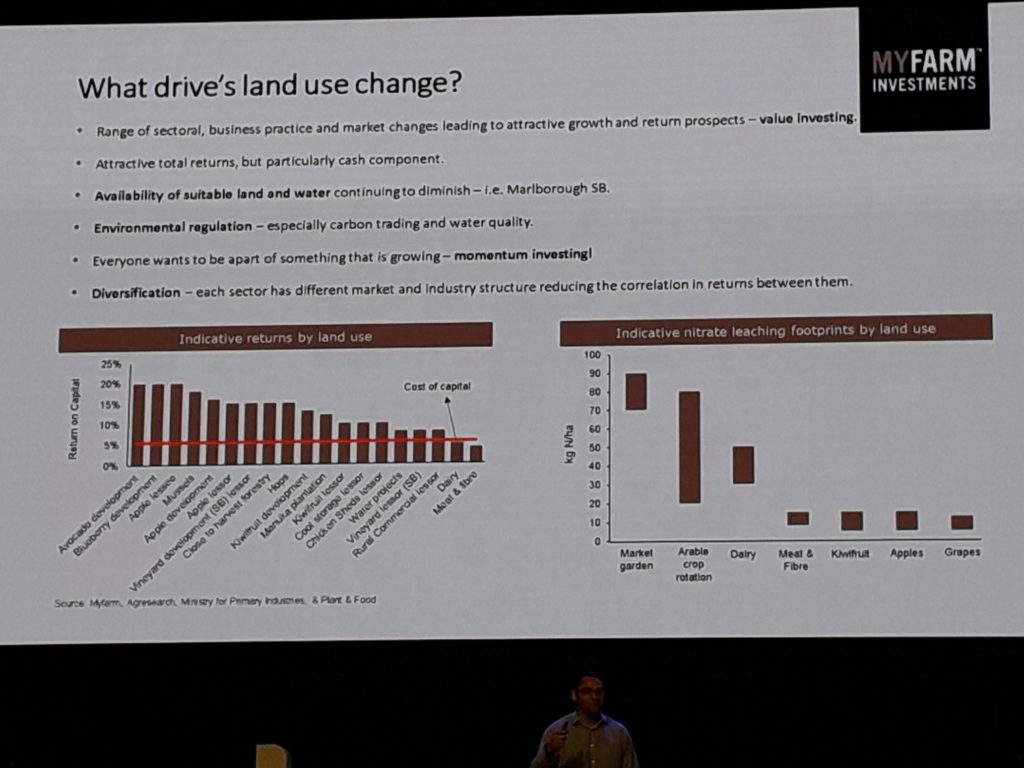 New Zealand gets a 40-100% price premium for green kiwifruit compared to our nearest competitor. Con says that's due to brand recognition, and heavily incentivising growers for fruit quality, which leads to consistency of a high quality, high taste product. On the downside, the labour cost and freight cost is high.
New Zealand is also a good place to produce apples, with a 35-40% premium for new varietals of apples. (We wonder what the premium for heritage varieties could be, per Kay Baxter's talk.)
What do these market leaders have in common?
They apply best practice management from orchard to end-customer
They adopt new innovations and technology
They make market-based payments to producers that reflect desirable quality characteristics
Unique products with trademarked IP
They target new market segments in Asia and high-margin food categories (eg health)
Collaboration between supply chain participants
They harness New Zealand's natural competitive advantages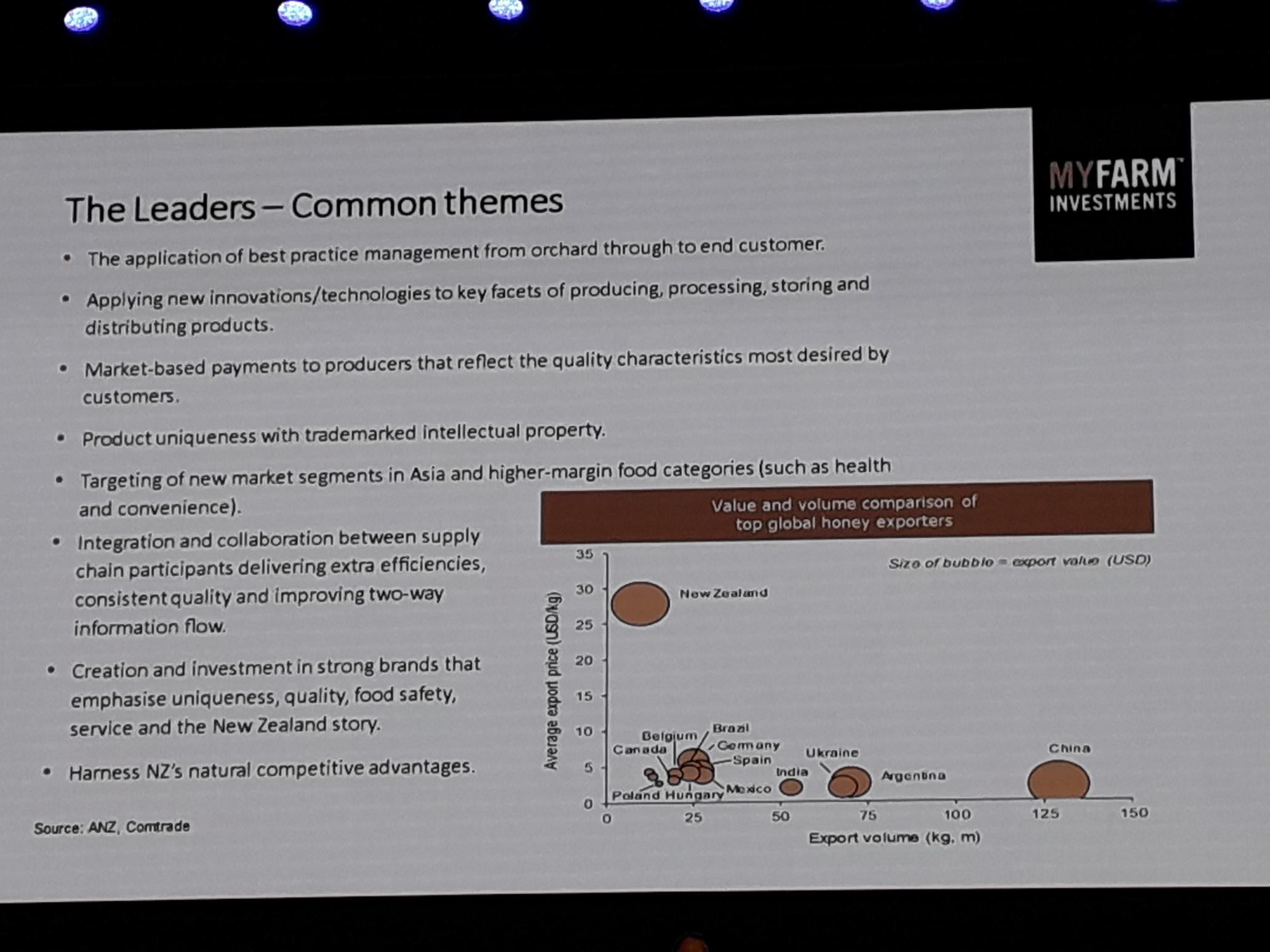 —
Sign up to our e-newsletter for updates from the edge of land and water science in Aotearoa
More from Grow 2019: