Investigating the importance of trust and approval by the community of the primary sector's practices, and the connection to productivity and sustainable growth in New Zealand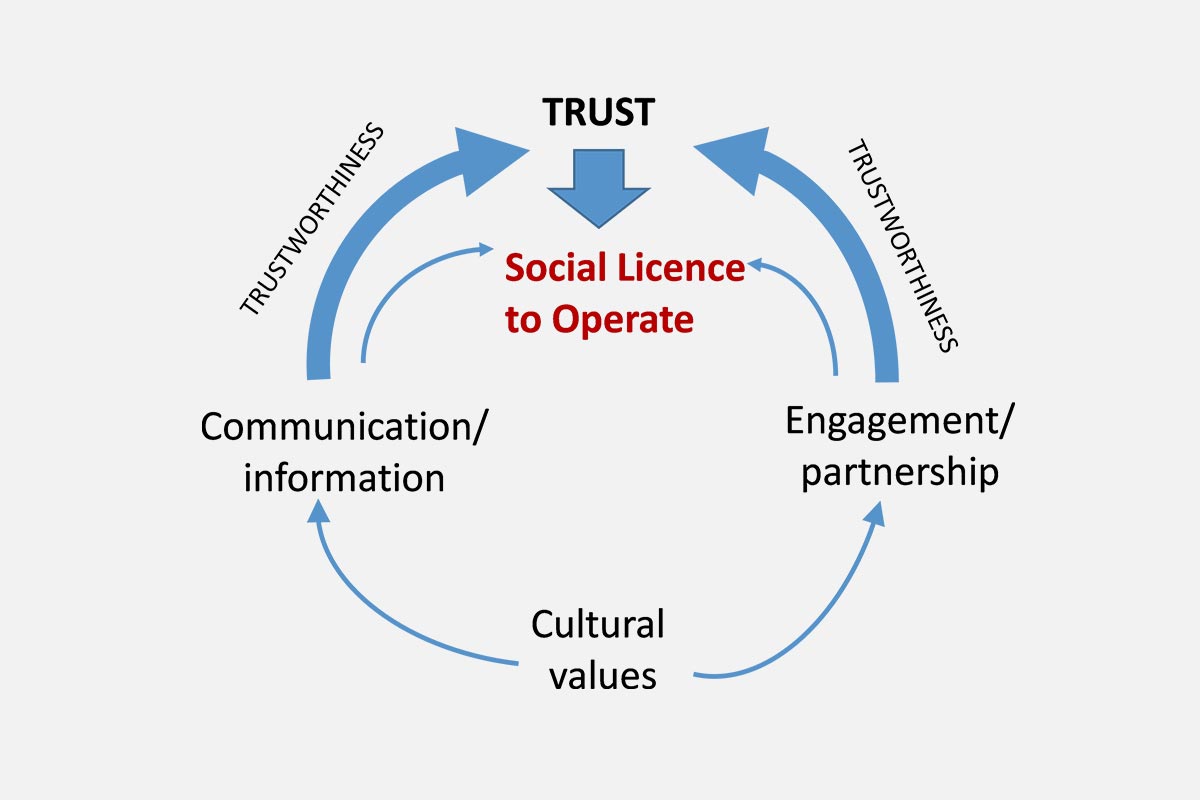 PROJECT DETAILS
Challenge funding: $80,000
Research duration: July 2017 – December 2017
As New Zealand's primary sector intensifies, it is increasingly under the public's scrutiny. This research looks at the importance of trust and approval (social licence) of primary sector practices, as well as trust between government, industry, community and media.
While New Zealanders generally value primary production, many consider the environmental impacts of some primary production systems to be unacceptable.
Without a social licence to operate, the primary sector may experience a loss of confidence from the public, resulting in legal action, conflict and regulation. This could have a negative effect on competitiveness and expansion and, in some cases, lead to closure for companies.
The project built a greater understanding of the importance of trust and relationship building. This provides a foundation for new approaches for developing and keeping social licence.
How Can The Research Be Used?
Synlait used information from the National Social Licence Forum, organised by Trust and Social Licence researchers, to inform their participation in DairyNZ workshops on social licence.
Information from the National Social Licence Forum was presented to the NZ Forest Owners Association (FOA) Environment Committee in late 2017 and used in a workshop with FOA and NZ Farm Forestry Association members in August 2018. This workshop determined some key underlying social licence-related issues that are of importance to the New Zealand forest industry.
Several 'spin-off' professional papers for submission to the New Zealand Journal of Forestry are in preparation to inform industry players and encourage discussion and debate around social licence.
Social licence components are being incorporated into several MBIE funding applications being submitted by Scion and Manaaki Whenua to examine social licence in different contexts.
Troubled Waters
NZ Geographic, July-August 2017
The core elements of social licence, said Edwards, involve a community feeling it has a say in the decision-making around a project, believing the benefits are distributed fairly, and trusting the company will follow through on its promises and engage with the community in a meaningful way.
VIEW ARTICLE →
In November 2017 the Social Licence research team and Scion hosted the first National Social Licence Forum in New Zealand at the Beehive, Wellington. It brought together researchers and representatives from community and environmental groups, government, farming, farm forestry and processing sectors. Participants discussed how different groups see social licence, the benefits and costs of social licence to New Zealand businesses and communities, and the barriers to gaining and maintaining a social licence.
The research team surveyed 128 members of the New Zealand public and held a stakeholder forum about perceptions of trust in relation to natural resource sectors.
A workshop was held with the NZ Forest Owners Association (FOA) and NZ Farm Forestry Association members to discuss social licence issues in the forest sector in August 2018.
Have a Question?
We are happy to answer any questions about this research and how it can be used.
Please fill in the form below
Thank you for your enquiry. Your question may require information to be gathered from the research team, so please anticipate that it may take us up to 10 days to prepare a reply.
We appreciate your interest in our research.