Horncastle Arena
Christchurch
Wool is Good for Your Skin and the Sea
20% of microplastics in the ocean are from textiles
Dr Stewart Collie, science team leader of bioproduct and fibre technology at AgResearch, is preaching to the converted when he tells us wool is the world's most sophisticated fibre in structure and composition.
Two recent AgResearch projects show how wool can address key global trends:
The first investigated how textiles influence our skin. The study demonstrated that skin under merino worn for several weeks shows better hydration and less redness than skin under man-made textiles (garments were worn that pieced together 2 back panels made from different fabrics). Previous research has shown a reduction in eczema, and foot skin health improvements from wearing wool.
The other research looked at the biodegradation of wool, and (not surprisingly) found that wool biodegrades pretty readily in the ocean. The close-up images comparing the breakdown of wool with the non-breakdown of polyester fibres were striking, as was the fact that 20% of microplastics in the ocean are thought to come from textiles.
Dr Stewart Collie is science team leader of bioproduct and fibre technology at AgResearch
The Power of the Country Brand
"Untouched World would love more New Zealand-grown cashmere to take to our customers"
You can bet Stewart's research was music to the ears of Peri Drysdale, founder and CEO of Untouched World, a 20-year-old fashion brand that exports high-value knitwear made from natural textiles, mostly from New Zealand.
A large factor in Untouched World's success is country-of-origin reputation, and their ability to tell customers a great story about how their purchases travelled through the New Zealand supply chain.
They've recently partnered with New Zealand Cashmere to commercialise New Zealand grown cashmere fibre, and Peri is here to convince beef and lamb farmers to add some cashmere goats to their systems.
"Cashmere has a low entry cost, and lower environmental impact than sheep or cattle," she says, plus it's a highly complementary system. "Goats eat the rough stuff that sheep don't want to eat."
Cashmere has an uneven history in New Zealand (read more on the Blinc Innovation blog). Through the 1980s, goat farming boomed then crashed. Market development and a stronger value chain were needed.
That market for premium cashmere fibre now exists, Peri tells us – and the timing is now right, following years of genetic selection by New Zealand Cashmere.
Blinc writes that "New Zealand is now producing cashmere fibre as fine as 12 micron, that's longer, whiter and brighter than cashmere from leading producers in Mongolia and China. 14 micron fibre represents the top 2% of Chinese fibre."
There's certainly room for growth: Peri says New Zealand is producing 6500 tonnes of cashmere annually now, equal to just 1% of wool production. And while most Untouched Word wool isn't processed on-shore, says Peri, cashmere can be processed in New Zealand from end to end.
"Untouched World would love more New Zealand-grown cashmere to take to our customers," says Peri.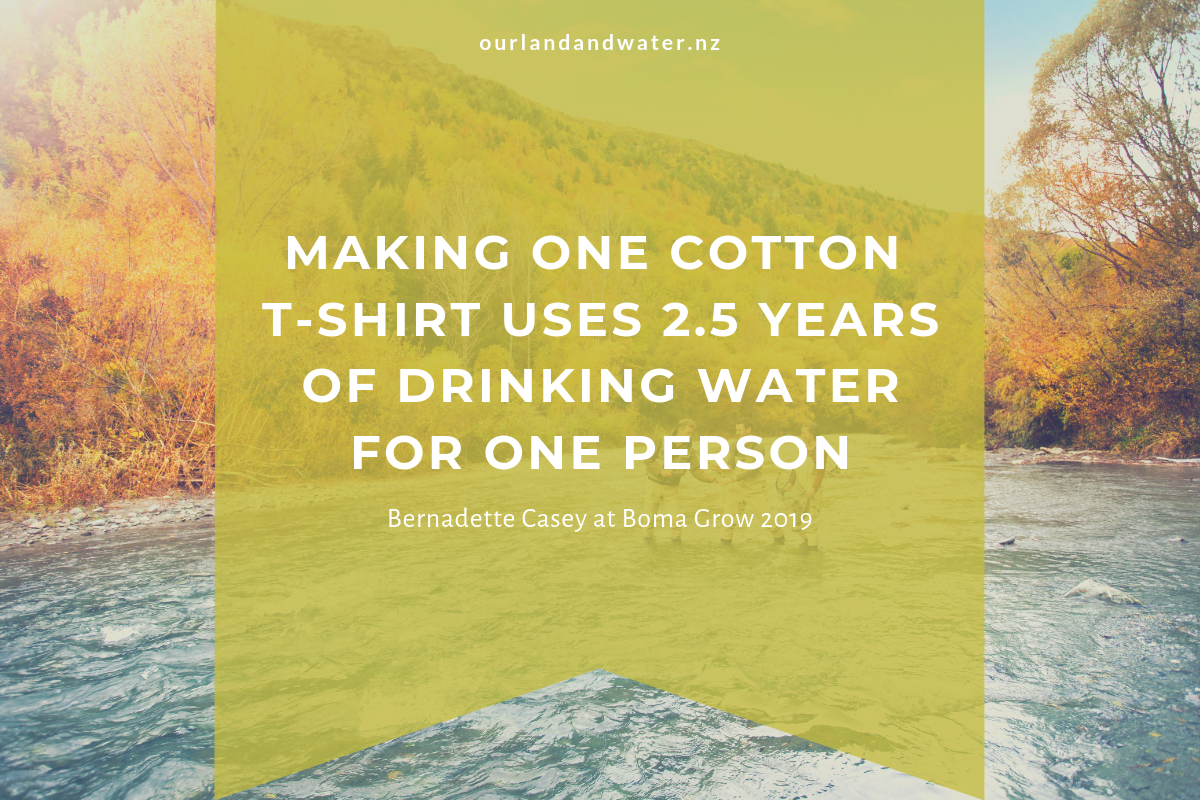 End of Life Textiles
How much water does it take to create a cotton t-shirt?
27,000 litres – that's 2.5 years of drinking water for 1 person
Bernadette Casey of The Formary is here to remind us that transformational change is needed in the fibre sector as much as it in in food.
"Textiles and clothing are the fastest growing waste stream in many countries," she says. Not only that, their production is hugely resource-hungry.
Even worse, in fast fashion, a garment such as a t-shirt will be worn an average of just 7 times.
After a few years creating upcycled products from waste, Bernadette realised that individual projects won't solve the huge problem of textile waste –  a macro change is needed.
She established The Formary, a reuse programme for New Zealand textiles, a collaboration between industry, government and social enterprise, transitioning our clothing system to greater circularity, reducing environmental impacts and extracting higher value from clothing resources.
Things are now starting to change rapidly overseas, she says. Globally the used clothing market is now worth US$360 billion – while the luxury market falls behind on US$305 billion. As a result, the luxury market is now investing in reselling programmes.
Bernadette Casey is co-founder and creative director of The Formary, which transforms surplus fibres into homeware textiles
Hemp – a New Raw Material for Industry
"Business doesn't like uncertainty. Hemp needs a champion in government"
The event app is buzzing with questions for Richard Barge as soon as he starts talking. He gives us a quick backgrounder on the 3 types of hemp plant, and a potted (so to speak) history.
The food, fibre and wellness industries are the 3 pillars of the potential hemp industry for New Zealand, he says. The food and wellness pillars come from the seeds, while the stem of the plant has a woody inner pith that contains the fibre.
An audience question clarifies that you can't really grow for both seeds and fibre – by the time the seeds are ready for harvest, the stem is too dry. Hemp is a rotational crop, planted in Oct/Nov, harvested in Mar/April. You need a licence from the Ministry of Health to grow it. (The license is easy to get and costs about $500 a year, a longtime hempseed grower at my table tells me.)
Splitting the stems into fibre, known as decortication, requires a lot of effort – which is why we don't see a lot of hemp fibre in New Zealand yet.
There are facilities to process hempseed into oil, but the potential market and means to process other hemp products are as yet unclear. There's also a regulatory risk, says Richard. "Business doesn't like uncertainty. Hemp needs a champion in government."
But after 80 years of prohibition we're finally getting the opportunity to look at the other products that can be made from this raw material. One is hempcrete, made with the 'herd' from the middle part of the plant, a carbon-negative building material that provides breathable insulation. As a textile, hemp fibre is also naturally antibacterial, antimicrobial, and blocks UV light.
There are lots of audience questions and clearly great interest from everyone in the room about the potential for growing more hemp here.
From Our Land and Water's perspective, there are also some questions for science, such as finding the best follow-on plant for hemp in a crop rotation, and some market research opportunities. After hempseeds are harvested the plant matter becomes livestock feed – surely there's a niche for cannabis-fed New Zealand lamb?
—
Sign up to our e-newsletter for updates from the edge of land and water science in Aotearoa
More from Grow 2019: