Investigating the use of indicators to help the primary and public sector meet local, national and international reporting requirements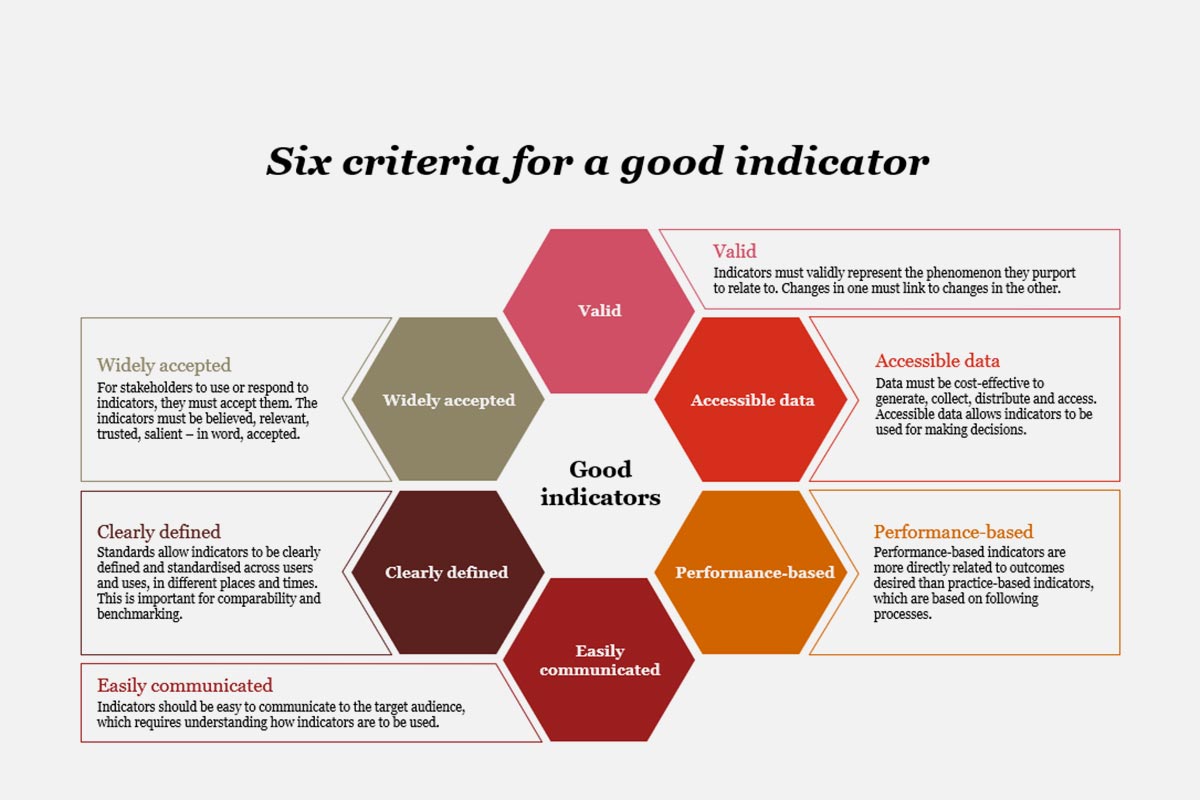 PROJECT DETAILS
Challenge funding: $200,000
Research duration: April 2017 – June 2019
AgResearch, Beef + Lamb NZ, DairyNZ, Department of Internal Affairs, Greater Wellington Regional Council, Lincoln University, Manaaki Whenua Landcare Research, MBIE, Ministry for the Environment, MPI, New Zealand Institute of Primary Industries, Plant & Food Research, PwC New Zealand, Ruapehu District Council, Scion, St Andrews Prebyterian Church Te Kuiti, Statistics New Zealand, Tararua Rural Education Activities Programme, Treasury, Waikato District Council
Indicators are used by the primary sector to benchmark elements of performance, such as water and chemical use, and track progress towards goals. Local and central governments use indicators to set policy and measure against targets.
The Indicators Working Group's role is to assemble, synthesise and publish information about indicators. It has reviewed existing agri-environmental indicator initiatives and their use, identified gaps, and is investigating the use of indicators for monitoring and evaluating land and water values. The aim is to find the right indicators and enable and support their use.
This research will help the primary and public sector meet local, national and international reporting requirements, and solve problems resulting from overlapping information needs and multiple ways of measuring.
The group has worked extensively with local and central government, industry groups, non-governmental and research organisations, scientists and representatives of rural communities to develop and promote the use of indicators.
How Can The Research Be Used?
The Indicators Working Group (IWG) participates in The Treasury's Wellbeing Group, which shares information with 14 public sector agencies and private sector organisations about wellbeing, sustainability and resilience indicators.
The IWG worked with the Greater Wellington Regional Council to improve their environmental monitoring programme by better integrating the collection of scientific data with the policy process.
The IWG prompted discussions at the Ministry for the Environment on how the Ministry's monitoring might fit into a wider monitoring system, which included discussions with several regional councils on a shared environmental monitoring system.
The IWG worked with the Resilient Rural Communities programme in AgResearch to conduct workshops with rural communities and deliver results of the research to the TempAg international research network. The research has been published in a peer-reviewed journal and circulated to the Government and ministries. The research was the basis of advice to government regarding the 1 Billion Trees programme and the M. bovis eradication effort.
The IWG held participatory design workshops with government, industry and research stakeholder to develop indicators for the United Nations Sustainable Development Goals. The indicators are informing analysis of potential pathways for achieving these goals. The work informed advice to Statistics NZ during the Indicators Aotearoa consultation process.
The IWG produced a proof-of-concept dataset that is publicly available on data.govt.nz, demonstrating the possibility of hosting research data for general access on a public data repository.
Heartland Strong: How rural New Zealand can change and thrive
Edited by Margaret Brown, Bill Kaye-Blake and Penny Payne
This important book, based on years of research, shows how, and provides useful insights into, the ongoing process of change in rural communities and the resources on which they draw to support their resilience. It offers a positive message and blueprints for progress.
VIEW ARTICLE →
Workshops were held in Huntly, Taumarunui, Te Kuiti, Dannevirke and Masterton, with people who have views on rural resilience, including farmers, teachers, local government, nurses, social workers, church and business leaders. Data was gathered for analysing possible thresholds for community resilience and assessing resilience. This information was reported to the Minister for Statistics James Shaw and shared with the Ministry for Primary Industries, Statistics NZ and The Treasury.
A workshop at MBIE to present our work on indicators for the Sustainable Development Goals, April 2018, was attended by policy makers from several government agencies.
Multiple workshops with local and central government, industry groups, non-governmental and research organisations have informed 7 individual projects focused on understanding how indicators are being used, and how they could be used to influence land use practice and meet New Zealand's international obligations.
Have a Question?
We are happy to answer any questions about this research and how it can be used.
Please fill in the form below
Thank you for your enquiry. Your question may require information to be gathered from the research team, so please anticipate that it may take us up to 10 days to prepare a reply.
We appreciate your interest in our research.