Denitrification is a natural process that reduces the amount of nitrate entering rivers and other freshwater bodies. In some groundwater systems, microorganisms turn nitrate into harmless nitrogen gas (known as 'benign denitrification'), significantly reducing nitrate concentrations.
Understanding more about this process is important to Our Land and Water, because it helps us understand where land use can be better matched to land suitability. Areas with high groundwater denitrification capacities may be suitable for more intensive land use, while other areas with less capacity could be used less intensively.
Research to reveal the denitrification capacity of New Zealand's groundwater systems was initiated by Lincoln Agritech and ESR in around 2005. Building on this body of work, Our Land and Water research teams have completed two denitrification projects, and a third project is now being planned.
Measuring Denitrification developed and proved a new way to measure denitrification in groundwater. This could make analysing groundwater's denitrification capacity more accessible for regional councils and farmers.
Benign Denitrification in Groundwaters proved the concept of spatially variable groundwater denitrification capacity. The team ran field trials on six pastoral farms in the Manawatu and Rangitikei river catchments to check if denitrification processes in groundwater are complete, turning nitrate into harmless nitrogen gas (benign denitrification). Incomplete denitrification creates the greenhouse gas nitrous oxide.
We've summarised the findings of both projects into a short Research Findings Brief: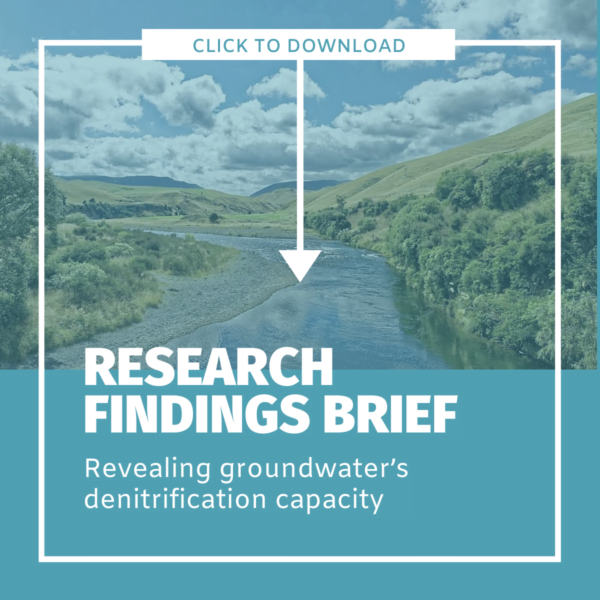 National Map of Denitrification
We're now establishing a team to produce a national map of denitrification potential in the subsurface environment. This team will:
analyse groundwaters in every region of New Zealand, to establish the relationship between low oxygen groundwaters and their denitrification capability
predict relationships between catchment characteristics and subsurface denitrification processes
refine a classification approach to tracing contaminant sources, providing confidence about the fate and impact of on-farm N, P, sediment and E. coli losses.
This map of denitrification will allow land stewards to identify whether their land's rate of nitrogen loss is impairing catchment water quality or largely being attenuated within the ground water.
Both the map and classification approach will inform allocation by the Ministry of the Environment and regional councils. Identifying the location and efficiency of groundwater denitrification sites can result in more effective nutrient loss regulations, more strategic nitrogen loss mitigation measures and improved land management.
___
More information: