Measuring Denitrification
The development of a method for measuring denitrification is a first for New Zealand, providing vital data for understanding natural denitrification processes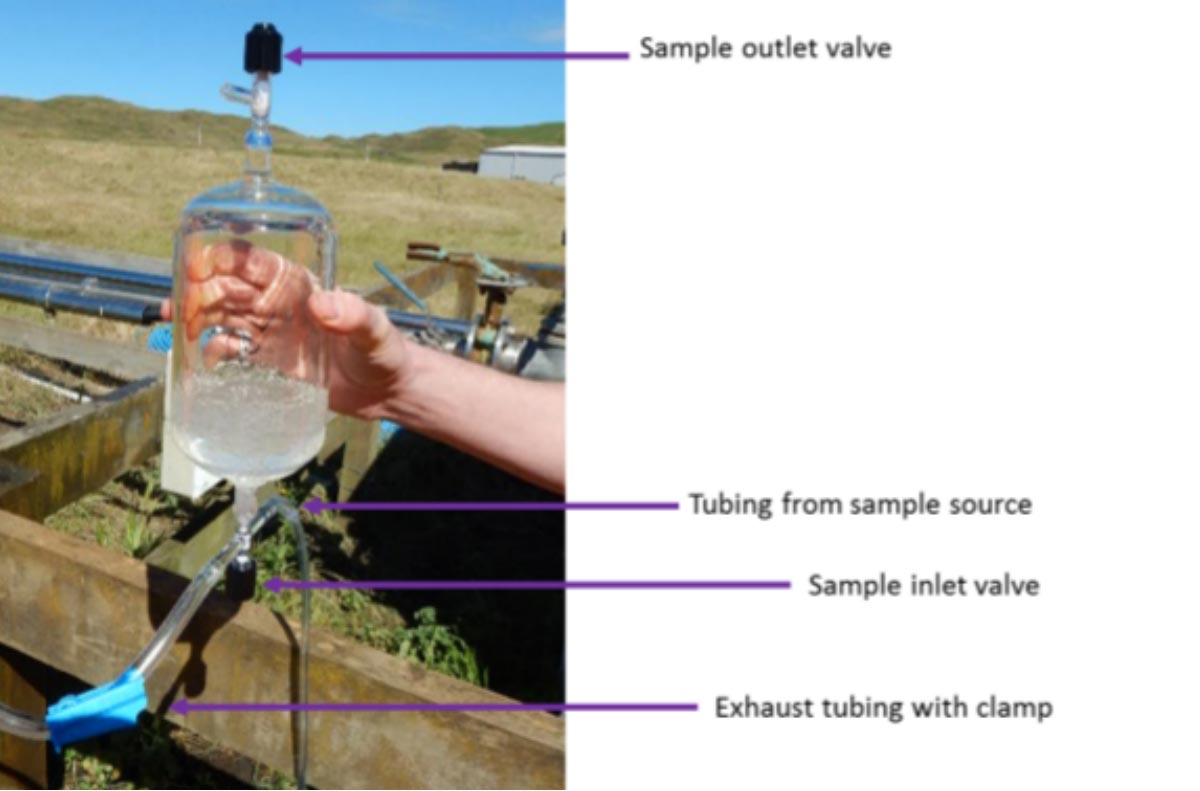 PROJECT DETAILS
Challenge funding: $230,900
Research duration: January 2017 – December 2018
Nitrate is the most pervasive groundwater contaminant. Around 40% of long-term groundwater monitoring sites in New Zealand show above-natural concentrations. Understanding and better managing nitrogen loads through New Zealand's aquifers is vital for maintaining freshwater quality.
Denitrification is a natural process involving microorganisms that reduce dissolved nitrate to nitrogen gas. This has potential to significantly reduce nitrate loads in groundwater systems, and as a result, reduce the nitrogen entering water bodies such as streams, springs and lakes.
No quantitative and direct technique for measuring the extent of this denitrification process has been available in New Zealand.
This research project has developed and proven a methodology for measuring dissolved neon which, in combination with argon and nitrogen measurements, can be used to quantify excess nitrogen in groundwater. This enables the amount of nitrate that has undergone complete denitrification to be calculated.
How Can The Research Be Used?
A method was developed to quantify the end product (excess N2) from the denitrification reaction, which can then be used to find the rate of denitrification (by combining with age). With enough data, a 3D map of denitrification could be created.
The project team is collaborating with Horizons Regional Council, Environment Southland and Waikato Regional Council to ensure that the measurement tools will be used by the councils. For example, the method has been used in the Waikato Regional Council's test wells.
Testing in the Lake Taupō catchment, which is under threat from excess nitrogen contaminants, aims to understand denitrification for better protection of this nationally significant environment.
The method developed by this programme will contribute to the production of an accurate national map of denitrification, which would feed into the Land Use Suitability programme, providing science-based data for land use optimisation to improve water quality.
The next step for this research is to get the technique ready for wider adoption on a regional and national level, with improved sensitivity enabling larger catchment studies.
Have a Question?
We are happy to answer any questions about this research and how it can be used.
Please fill in the form below
Thank you for your enquiry. Your question may require information to be gathered from the research team, so please anticipate that it may take us up to 10 days to prepare a reply.
We appreciate your interest in our research.