PROJECT DETAILS
Challenge funding: $2,750,000
Research duration: June 2016 – December 2019
Land use planning in New Zealand currently focuses on what a parcel of land is capable of producing, with the increasing use of regulatory limits. These limits will be more easily met when land use planning considers the conditions of water bodies downstream, and the economic, environmental, social and cultural values of the surrounding community.
We call this broader planning perspective 'land use suitability'.
To enable this shift in perspective, we need more detailed understanding of the land's natural attenuation processes, which reduce levels of contaminants like nitrogen and phosphorus, and the resilience of water bodies.
Land Use Suitability research is linking these natural processes with human interventions, mitigations and land-management choices, to make the consequences of our choices clearer and more predictable.
How Can The Research Be Used?
This research developed the land-use suitability (LUS) framework, focused on conveying information about the productive potential of land and the susceptibility of water bodies connected to land parcels. This will support the development of tools for land owners and investors to evaluate a range of land uses suitable for individual land parcels, and for central and local government to estimate land-use effects such as contaminant loss.
This research has divided the country into typologies, used simulation modelling for 5 land uses on each typology, and used a combination of empirical modelling and direct transfer to extend from the typologies to coverage of all land parcels in the country. The approach has proven sound, but requires additional data to represent all land uses nationally.
A second phase of research will expand the scope to consider a broader range of constraints and pressures, including greenhouse gas emissions. It will add up to a dozen additional land uses, extended to all land parcels.
Researchers and collaborators have trialed the LUS assessment processes in real-world decision-making. Hawkes Bay Regional Council partnered with the LUS team to apply their research to decision-making processes. Environment Southland took a critical role in co-developing the LUS concept and providing reality checks and guidance about real-world applications. It tested application of Land Use Suitability (LUS) in the Oreti catchment in 2018.
The research team brought together every scrap of available spatial data in the country, in every possible model, to produce maps for every farmable parcel in Southland. A prototype land use planning support tool, the Land Use Suitability Analyser, was developed and tested using the Southland data, bringing together multiple existing tools (digital river network, Sparrow catchment model, Overseer nitrogen model, Land Use Capability classification, and spatial data layers with physiographic zones). This tool focused on nitrogen as the land use pressure of concern, and the impact of changing land use on water quality and farm profit. A national-scale pressure layer, incorporating lakes, was developed.
The LUS concept was discussed by the Land and Water Forum in advice to the Minister for the Environment about the allocation of nutrient discharge allowances on-farm and in a catchment. Scott Larned met with the Parliamentary Commissioner for the Environment staff to discuss applications of the LUS concept.
7 industry stakeholders (DairyNZ, RaboBank, Fonterra, Beef + Lamb NZ, the Foundation for Arable Research, LandCorp, IrrigationNZ) are all actively collaborating with researchers to develop land use suitability tools into industry policy or advice.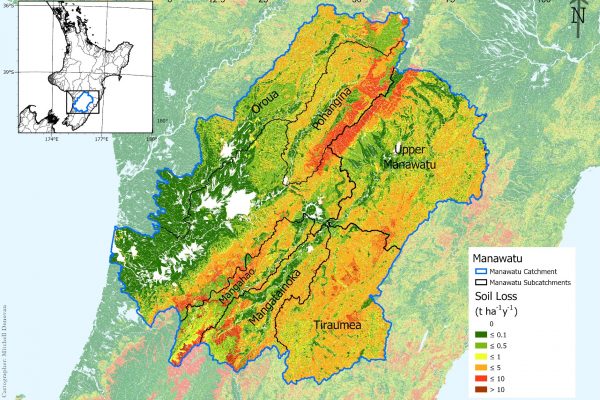 Erosion of topsoil threatens food production, land stability, water quality and ecosystem functioning around the ...
VIEW ARTICLE

→
Mapping surface erosion on a national scale
Farmers Weekly, 7 December 2021
[Dr Donovan] says the national maps are not likely to be immediately useful to regional councils, catchment groups, or individual farmers who want to understand their farm, but in those cases, he recommends getting in touch to explore the appropriate options to develop a regional, catchment or individual farm map that accounts for specific grazing densities at paddock scales.
VIEW ARTICLE →
Climate measures need to speed up
Farmers Weekly, 28 February 2020
Nitrate leaching will be higher and more variable with more extreme rain leading to more frequent nitrate leaching. The most noticeable increase modelled was in a Southland case study where annual leaching increases significantly with more spring rain and more frequent extreme rain but more research is needed to confirm the trend.
VIEW ARTICLE →
How to prepare for a changing climate
Dairy News, 4 March 2020
The report also identified for dairy, sheep and beef that heat stress will be an increased risk for animal health, with about two additional weeks of risk for moderate heat stress by the 2090s, and a more pronounced risk of severe heat stress. Provision of more shade and shelter will be needed.
VIEW ARTICLE →
Farming for our Future
NZ Geographic, Mar-Apr 2018
"Cynical people would recognise that we're trying to figure out to what degree we might have our cake and eat it, too. Of course, the truth is, you can't" – Scott Larned
VIEW ARTICLE →
Troubled Waters
NZ Geographic, July-August 2017
Scott Larned, a NIWA ecologist with a strong interest in how ecosystems interact with water, told me it can take 60 to 100 years for rainwater falling on the upper Canterbury Plains to percolate to the ocean
VIEW ARTICLE →
Land Use Suitability has liaised with 6 regional councils (Environment Southland, Envionment Canterbury, Greater Wellington Regional Council, Waikato Regional Council, Environment Bay of Plenty, Horizons) on their current planning processes and the potential for application of the Land Use Suitability concept.
In collaboration with several runanga, cultural assessments were conducted at 170 sites in Otago and Canterbury, assessing land use impacts on Māori cultural values. The results of this work and its potential applications were discussed with three runanga in a hui series.
Land Use Suitability researchers participated in the Innovation Market hosted by the Collaboration Lab. Amy Whitehead explained and demonstrated the Land Use Suitability Analyser, and Scott Larned facilitated a discussion of land use, environmental effects and kaitiakitanga in the Te Waihora catchment. The target audience included researchers, entrepreneurs and the Next Generation Influencers.
Have a Question?
We are happy to answer any questions about this research and how it can be used.
Please fill in the form below
Thank you for your enquiry. Your question may require information to be gathered from the research team, so please anticipate that it may take us up to 10 days to prepare a reply.
We appreciate your interest in our research.