Aotearoa's freshwater quality is degraded, and in some areas much more than others.
For the first time, excess nitrogen loads in rivers, lakes and estuaries have been shown for the whole country on a single map, identifying which regions and catchments require the largest load reductions.
The map shows the gap between the current total nitrogen load in New Zealand's water, and the load required by current regulatory criteria.
"Many of the patterns on this map are well understood by individual regional councils and unitary authorities, but the proportion of the excess load might be surprising," says Professor Richard McDowell, chief scientist at the Our Land and Water National Science Challenge, which funded this research.
The load reductions required to meet water quality objectives in some regions are large relative to existing loads. The current load is twice the maximum allowable load in parts of the Waikato, Manawatū-Wanganui, Marlborough, Canterbury, Otago and Southland.
At least 43% of New Zealand's agricultural land (31% of New Zealand's total land area) is in catchments that are under pressure.
This is the first study of excess nitrogen load that has considered environmental objectives for estuaries as well as lakes and rivers.
We've summarised the findings of this analysis into a short Research Findings Brief: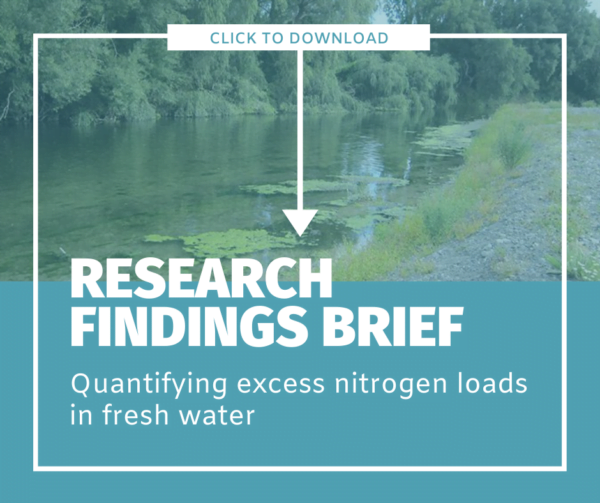 The research team integrated a variety of models and data sources to estimate the current load of total nitrogen (TN), and the maximum acceptable load (MAL) of nitrogen that can be emitted and still achieve bottom lines under current National Objective Framework criteria for periphyton in rivers, for total nitrogen in lakes, and derived criteria to achieve acceptable trophic states in estuaries.
This enabled the identification of catchments where total nitrogen emissions to water are in excess of regulatory requirements, using the ratio of TN to MAL. The excess load, which is the amount by which the current TN load exceeds the current MAL, was then calculated and mapped.
"Our analysis combines several sets of models and modelled predications," says Dr Ton Snelder, director of Land Water People, who led this analysis. "Although this approach is subject to uncertainty at the individual site scale, we are very confident that current nitrogen loads are above the levels allowed by national regulations in 9 of the 15 regions of New Zealand."
Current nitrogen loads are above the levels allowed by national regulations in 9 of the 15 regions of New Zealand
This research was done by members of the Land Use Suitability research programme team, funded by Our Land and Water. The Land Use Suitability programme was led by Dr Scott Larned, Chief Scientist – Freshwater and Estuaries at NIWA.
Additional research has estimated the potential contaminant load reductions from full implementation of all known and emerging on-farm mitigation actions (McDowell et al, 2021). In some catchments, a combination of de-intensifying land use and land use change will be required to meet objectives.
___
More information:
Interactive map: Total nitrogen excess and reduction potential (short URL: tinyurl.com/OLW-map)
Nitrogen loads to New Zealand aquatic receiving environments: comparison with regulatory criteria Ton H. Snelder, Amy L. Whitehead, Caroline Fraser, Scott T. Larned & Marc Schallenberg (New Zealand Journal of Marine and Freshwater Research, May 2020)  PDF available on request
Research Findings Brief: Quantifying excess nitrogen loads in fresh water, Our Land and Water (Toitū te Whenua, Toiora te Wai) National Science Challenge 2020
Interactive table of all mitigations: Actions to Include in a Farm Environment Plan
Quantifying contaminant losses to water from pastoral land uses in New Zealand III. What could be achieved by 2035? R.W. McDowell, R.M. Monaghan, L.C. Smith, A. Manderson, L Basher, D. Burger, S. Laurenson, P. Pletnyakov, Spiekermann R (New Zealand Journal of Agricultural Research, 2021)
Implications of water quality policy on land use: A case study of the approach in New Zealand R.W. McDowell, P. Pletnyakov, A. Lim and G. Salmon (Marine and Freshwater Research, October 2020)
Land Use Suitability research programme