Benign Denitrification in Groundwaters
Developing a cost-effective technique to assess denitrification processes and end products in shallow groundwaters
PROJECT DETAILS
Challenge funding: $170,000
Research duration: January 2017 – January 2020
Denitrification is the natural process of soil bacteria converting nitrate back into atmospheric nitrogen gas.  This process could reduce (attenuate) the environmentally damaging impacts of nitrate leached from farms to freshwater.
It is important that the denitrification process is complete, because incomplete denitrification can release nitrous oxide (N2O, a harmful greenhouse gas) rather than dinitrogen (N2, a harmless gas making up 78% of the atmosphere).
Benign Denitrification in Groundwaters research developed a catchment-scale model to assess denitrification processes and end products (nitrous oxide and/or dinitrogen) in shallow groundwaters in the Manawatu and Rangitikei river catchments (located in the lower part of the North Island, New Zealand).
This conceptual model could be developed into a method to map and effectively utilise complete benign denitrification capacity at the farm scale, to help achieve environmentally friendly dairy farming across agricultural landscapes.
How Can The Research Be Used?
This research found that the capacity of natural processes to reduce nitrogen varies a great deal spatially, even within the same catchment. Some parts of a catchment may therefore contribute disproportionately to river contamination of nitrogen, while areas with high nitrogen attenuation capacity may be suitable for strategic intensification of land use.
Farming the attenuation capacity will be a defining feature of future land uses and a key component of suitability criteria.
The results suggest a reduction of greater than 25% in the river nitrate loads from dairy farming areas could potentially be achieved by spatially aligning dairy land with areas of high subsurface nitrate-attenuation capacity, and by managing critical flow pathways using innovative edge-of-field technologies such as controlled drainage, drainage-water harvesting for supplemental irrigation, woodchip bioreactors, and constructed wetlands in the study catchments.
There is potential to build on this work to better understand, map and effectively utilise existing natural and new built-in nitrate-attenuation capacity to significantly reduce water-quality impacts from dairy farming across environmentally sensitive agricultural catchments. This knowledge and tools could help farmers close the gap between what can be achieved with current, in-field mitigation practices and the nitrogen-loss allocation imposed by regulatory authorities.
Regional councils can use this research to inform policy and the allocation of nitrogen leaching allowances, to achieve better water quality outcomes. Researchers in the Benign Denitrification in Groundwaters project are working collaboratively with Horizons Regional Council and Waikato Regional Council, having agreed that the denitrification measurement tools will be used by the Councils.
The first end users include Massey University's Fertilizer and Lime Research Centre (FLRC), Horizons Regional Council, Waikato Regional Council, and Our Land and Water researchers and partners.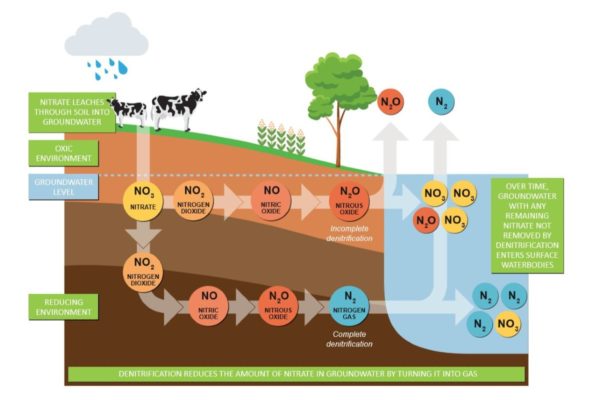 Denitrification is a natural process that reduces the amount of nitrate entering rivers and other ...
VIEW ARTICLE

→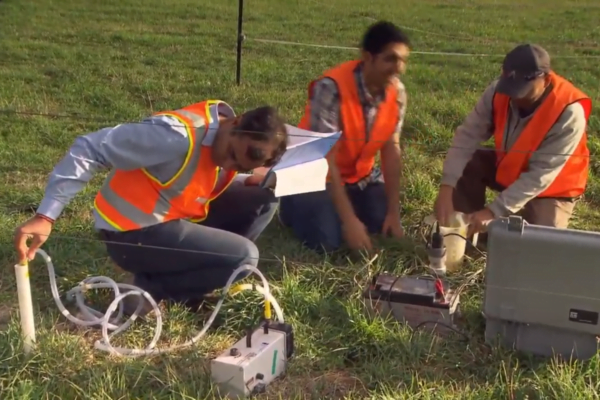 Cattle urine and many fertilisers contain nitrogen, and increasing dairy cow numbers in New Zealand ...
VIEW ARTICLE

→
Drains fast track nitrogen reductions
Farmers Weekly, 28 August 2019
"Taking the attenuation knowledge you have for your farm and using these relatively lower-cost techniques means you avoid that major capital outlay. You also leave your land use options open – if you are committed to an expensive livestock home, for example, it's more difficult to change to another land use in the future."
VIEW ARTICLE →
Our Land and Water takes on agricultural challenges
Irrigation NZ News, Autumn 2019 (page 36)
The Massey University-led research analysed the likely result of strategically intensifying land use in more than 83,000ha of high nitrogen attenuation capacity areas in the catchment – while de-intensifying land use over about 10,000ha
VIEW ARTICLE →
Science omnivore takes on the tough questions
Dairy Farmer, 18 February 2019
Because the leached nitrogen flowed through aquifers where a lot of denitrification occurred, most of the leached nitrogen was converted to gaseous forms and lost to air. The result was that the load in the river would have likely decreased by 6%
VIEW ARTICLE →
Troubled Waters
NZ Geographic, July-August 2017
This capacity to attenuate nitrogen is highly variable across a catchment, Singh said. "This leads you to conclude that some parts of a catchment are contributing disproportionately to river contamination"
VIEW ARTICLE →
Rural Delivery
TVOne, 2015
"We found that nitrogen reduction capacity varies quite a bit from sub-catchment to sub-catchment," says Ranvir Singh. "That is very interesting because we did not know that this reduction underground was that variable, and we are not utilising it properly"
VIEW ARTICLE →
Joining the Dots
EDS Conference, 2 August 2018
Parliamentary Commissioner for the Environment Simon Upton talks about research on the spatial variability of nitrogen attenuation and its importance in catchment-scale modelling of nutrient losses (11:00–14:00)
VIEW ARTICLE →
Have a Question?
We are happy to answer any questions about this research and how it can be used.
Please fill in the form below
Thank you for your enquiry. Your question may require information to be gathered from the research team, so please anticipate that it may take us up to 10 days to prepare a reply.
We appreciate your interest in our research.