Managing contaminant pathways and attenuation to create headroom for productive land use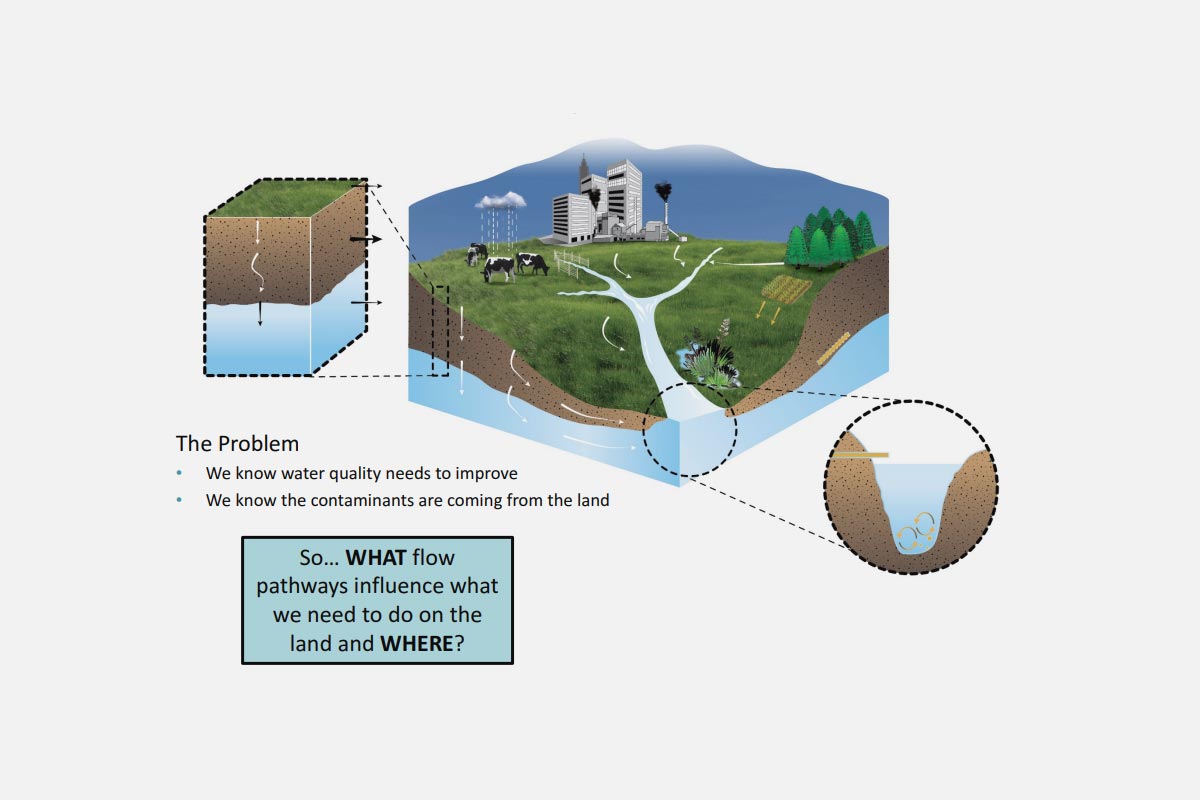 PROJECT DETAILS
Challenge funding: $3,150,000
Research duration: October 2016 – December 2019
About half (55%) of agricultural contaminants (nitrogen, phosphorus, sediment, faecal microbes) are naturally removed as they flow from land to sea – but this percentage varies greatly for different soils and landscapes.
Land-owners need site-specific information about the sources of these contaminants, their rate of transport to receiving waters, and how they are diluted while transported. This knowledge will enable the identification of critical source areas to target cost-effective mitigation interventions, and contribute to our understanding of the potential effects of different land uses on the environment (land use suitability).
The Sources and Flows programme brought together climate, soil, hydrology and water quality scientists to develop a multi-component framework that integrates and fills key gaps in knowledge about the source, transport and transformation of agricultural contaminants. The components of this framework can be incorporated into existing water quality tools and used in the development of new tools.
Sources and Flows researchers also assessed the effectiveness of efforts over the past 20 years to mitigate the impacts of farming on water quality.
How Can The Research Be Used?
The multi-component, modular framework developed by the Sources and Flows programme is a screening tool for quick assessment of water quality at catchment scale. It will allow landowners to pinpoint a location, identify the contaminants of concern, and select appropriate mitigations.
The mitigation assessments done by Sources and Flows researchers will help assess whether water quality objectives can be achieved in water bodies, or whether land use change might be required in the catchment area.
This research refined a 'critical source area' theory that explains that the majority of contaminants come from a minority of a farm or catchment. When targeted to these small but critical areas, mitigations are 6 to 7 times more cost-effective. This theory is now used in 77 guidelines, industry strategies and policy documents for environmental farm plans to improve water quality.
Sources and Flows researchers modelled soil drainage at 3 North Island and 3 South Island sites and found 35% to 80% more drainage peaks than expected. This suggests better monitoring of soil moisture and scheduling of irrigation is required. Because of this research the Northland Regional Council is refining drought intensity, duration and frequency curves for Northland to guide regional irrigation schemes and the allocation of water.
Sources and Flows research used precision irrigation technologies, timed and matched to soil type at a location in Central Otago, to show that the loss of nitrogen and phosphorus in soil drainage was reduced by 70% to 80% compared to standard irrigation practice. Irrigation NZ highlighted this nationally.
The Sources and Flows team is working with DairyNZ to develop geospatial data layers that capture the transport of N, P and faecal microbes from sources to water bodies. DairyNZ has been providing the research team with key data layer support as well as research questions that need to be answered.
Researchers in this programme created a map of New Zealand's potential groundwater recharge zones, where water moves downward from the surface to become groundwater. The map can be used as an initial guide for nationwide assessment and management of groundwater resources, and to identify areas of high nutrient leaching in zones with high groundwater recharge potential.
The Sources and Flows team has provided lookup tables of N and P losses to support the assessment tool being developed by Land Use Suitability research. This research will also guide the development of catchment modelling tools.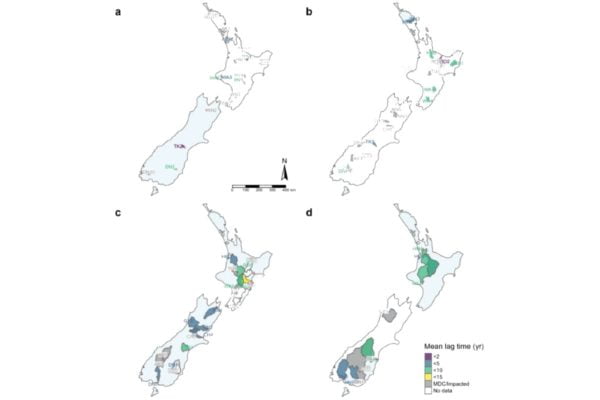 The decisions farmers make today to reduce excess nutrients will be reflected in water quality ...
VIEW ARTICLE

→
Greater Wellington Regional Council, Waikato Regional Council, Tasman Regional Council and Environment Southland have collaborated with the Sources and Flows programme to test the accuracy of national-scale mapping of groundwater redox in their regions. ECan chief scientist Dr Tim Davie participated in the initial stakeholder advisor group.
Environment Southland is a partner in developing and testing the Sources and Flows framework in the Oreti and Aparima catchments.
Sources and Flows work has also been tested in the Waiotapu (Waikato Regional Council ) and Waitangai (Northland Regional Council) catchments.
Sources and Flows has worked with Northland Regional Council to apply the drought risk component of their framework as a tool for the Northland region.
Sources and Flows had a stakeholder advisory group to guide initial dialogue with industry groups including Pamu, Beef + Lamb NZ, DairyNZ and Rabobank regarding their needs from the Sources and Flows framework.
Have a Question?
We are happy to answer any questions about this research and how it can be used.
Please fill in the form below
Thank you for your enquiry. Your question may require information to be gathered from the research team, so please anticipate that it may take us up to 10 days to prepare a reply.
We appreciate your interest in our research.