Designing an open source modelling system to assess productivity potential and water quality contaminant dynamics at farm and catchment scales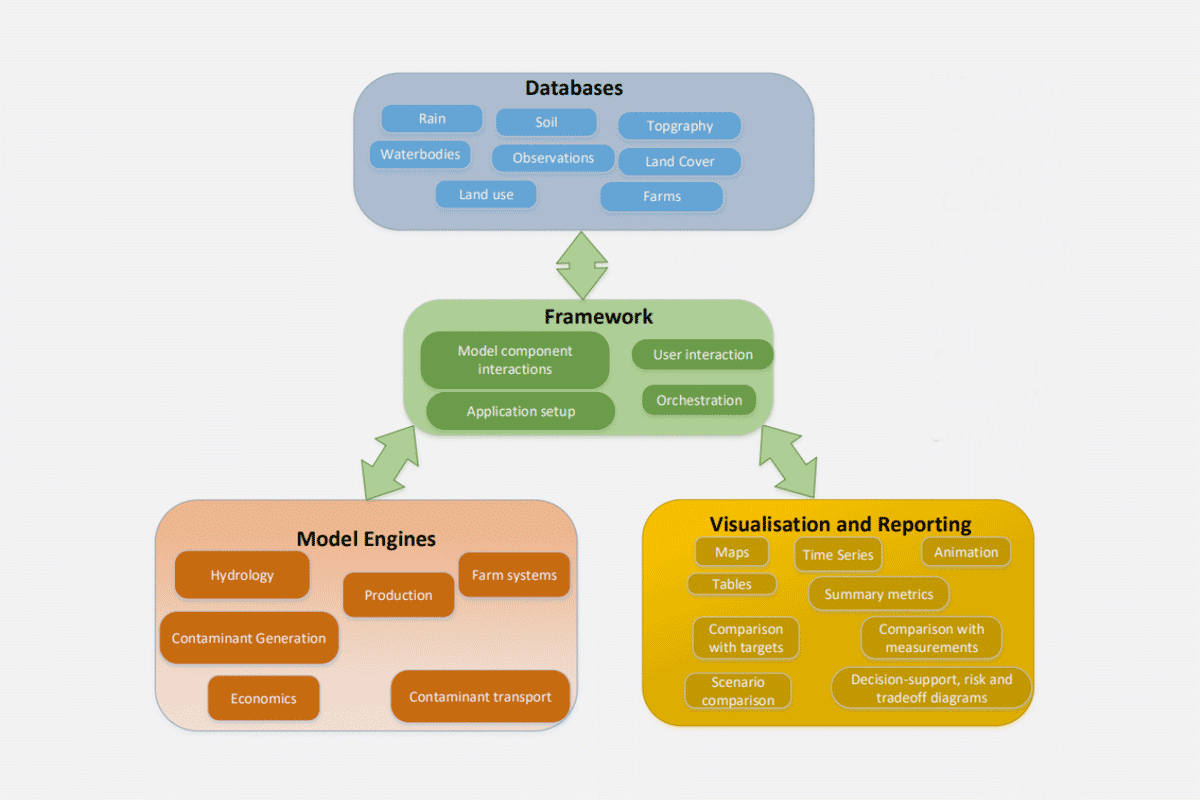 PROJECT DETAILS
Challenge funding: $900,000
Research duration: February 2017 – June 2019
Transitioning New Zealand's agricultural landscape to a more diverse and resilient mosaic of land uses requires understanding how land management and water quality interact, and how targeted management can achieve our shared values. This requires our ability to model these interactions using open-source interoperable models feeding off low- or no-cost, readily available and high-quality data.
Interoperable Modelling research is developing a national modelling system that assesses the environmental, production and economic implications of land use and land use change, at farm and catchment scales. The goal is to create a trusted tool that helps individuals and communities achieve agreed land and water quality outcomes.
Researchers have identified an agreed initial set of models, data sources, and visualisation components, and are working with a software platform for integrating and accessing the components. Our programme is co-funded by stakeholders to provide a platform where the best models can 'talk' to each another.
How Can The Research Be Used?
Interoperable Modelling researchers are working with an agreed integrated science quality modelling platform to implement a functioning and interoperable set of models. This platform is using the best available data to provide much faster, cheaper analyses and visualisation experiences, and outputs that are meaningful for the measurement of national scale change (eg land use) or regulatory limits.
A comprehensive report on interoperable modelling was prepared collaboratively with input from technical experts from 14 organisations. There are 10 parties actively engaged with co-funding the next phase of the programme, with approximate 1:1 co-funding.
Work on implementing this plan commenced in 2018, with a condensed work programme in 2019 to deliver an initial set of models implemented in the open-source DeltaShell framework and trialled in a test catchment (Aparima catchment in Southland).
The initial set of models will focus on static and dynamic catchment models, including contaminant generation and transport, water resources, and optimisation.
Have a Question?
We are happy to answer any questions about this research and how it can be used.
Please fill in the form below
Thank you for your enquiry. Your question may require information to be gathered from the research team, so please anticipate that it may take us up to 10 days to prepare a reply.
We appreciate your interest in our research.