New Zealanders share an understanding that, like people, our rivers have the right to be healthy and safe (te mana o te wai). We all want rivers our children and grandchildren can grow up swimming in, like our ancestors did.
Many people who farm, community and iwi groups, and people working as part of the Jobs for Nature programme are taking action to improve freshwater quality, through activities such as stream fencing and planting, wetland restoration, and changes in farming practice.
Monitoring the collective effect of these activities on water quality has not been standard practice in New Zealand – but it is now urgently required. In 2020, the government introduced regulations that aim to improve the quality of New Zealand's fresh water within five years and restore freshwater ecosystems to a healthy state within a generation. The policy package requires water quality trends to be monitored over time, and tasks regional councils with establishing monitoring methods.
For this to happen, we need to fill some critical gaps and shortcomings in our current monitoring methods and networks. People in regional councils need a framework to help them design monitoring programmes that will measure the effectiveness of actions to improve freshwater, and to help them select appropriate monitoring technologies that enable early detection of improvement.
These monitoring programmes will give people taking action on the ground information on successes and failures of past actions, helping them prioritise the most effective actions to improve freshwater quality, so our rivers more quickly return to good health.
Read more in Guidance: Designing Freshwater Monitoring Programmes to Detect Early Improvement (8-page PDF), including a recommended 5-step process for monitoring the effectiveness of actions to improve freshwater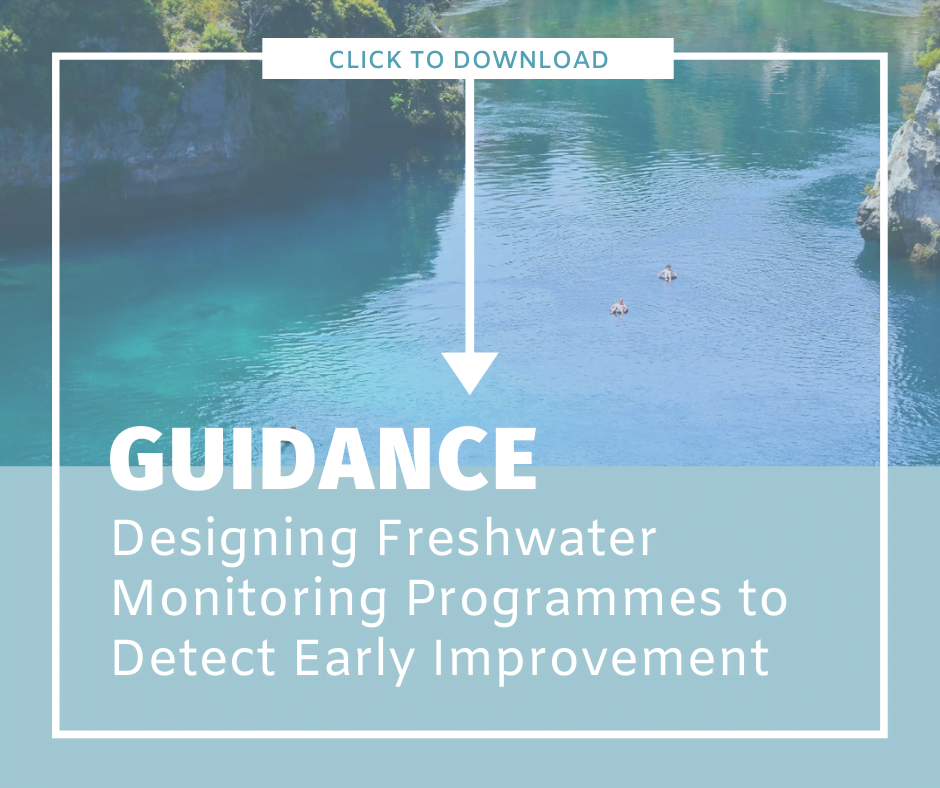 Considerations For Designing Freshwater Monitoring Programmes
Monitoring programmes must detect early improvement. The people working to improve water quality need more immediate feedback about the effectiveness of their actions. This feedback can become part of a cycle where successes and failures are understood, increasingly effective plans are then developed, and this greater confidence leads to increased implementation. The current absence of feedback risks encouraging ineffective restoration projects and plans, or uninformative evaluations.
We need more than 'State of the Environment' monitoring. In New Zealand we tend to rely on existing monitoring networks, such as 'state of the environment' monitoring, that provide long-term datasets. These networks were not designed to detect early change or measure the effectiveness of a specific mitigation or restoration activity, and are often at a spatial scale that cannot establish whether a change was caused by an intervention. Mitigation and restoration activities take place at multiple scales by a diverse range of people who are often interested in a wider range of outcomes and attributes than are measured by 'status quo' monitoring.
Regional councils need to adopt new technologies. People in regional councils generally have ample knowledge about the monitoring technologies available and are enthusiastic about possible novel technologies, though this varies by council. Novel technologies are needed to enable earlier detection of freshwater improvement. This research developed a 'proof-of-concept' comprehensive inventory of freshwater improvement monitoring technologies that linked a total of 47 attributes to 171 current and emerging monitoring technologies (access available on request).
New technologies must have high-quality guidelines for use. To be adopted for use by regional councils, new technologies must be proven, be economical, and have guidelines or standards for their use. Crucially, they must also be defensible for long-term planning and must be acceptable as evidence in statutory resource management processes. Until novel technologies can reach those benchmarks, councils will tend to stick to traditional approaches.
What is Required to Implement Improved Freshwater Monitoring Programmes in New Zealand?
The two working groups identified requirements for further work that will be necessary to develop a fully functioning tool to guide the development of freshwater monitoring programme that enable regional councils (and others with responsibility for Aotearoa's fresh water) to detect early improvement in water quality.
Ensuring the integrity of Te Mana o Te Wai (a third working group is currently developing guidance)
Simplified interface for end-users
Mātauranga Māori monitoring
Further guidance on monitoring technologies
User-ready decision support tools
Integration with FEPs
Integration with modelling
Find more information on each of these requirements in Guidance: Designing Freshwater Monitoring Programmes to Detect Early Improvement (8-page PDF)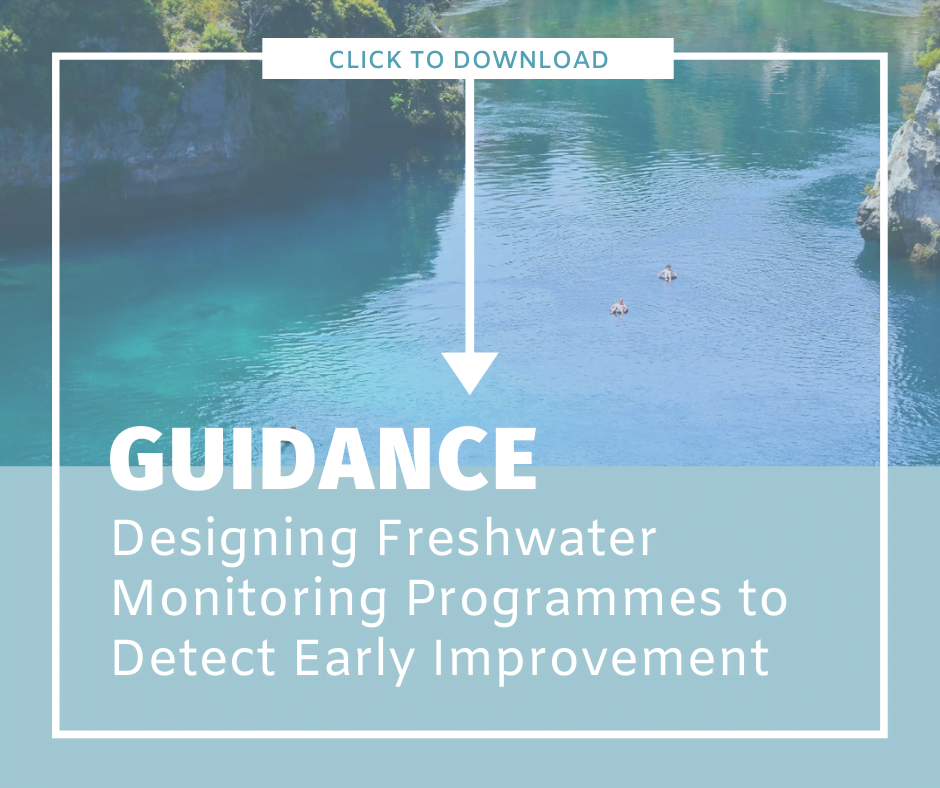 ---
More information:
Ausseil, O., Clapcott J.E., Etheridge Z., Hamilton D., Linke S., Matheson F., Ramsden M., Ruru I., Selbie D., Tanner C., Whitehead A., Bradley A. (2021). Measuring the benefits of management actions: Mitigation effectiveness Monitoring Design, Proof of Concept development phase. Our Land and Water National Science Challenge, New Zealand – available on request
Rogier Westerhoff, Richard McDowell, James Brasington, Mark Hamer, Kohji Muraoka, Maryam Alavi, Richard Muirhead, Abigail Lovett, Ian Ruru, Blair Miller, Neale Hudson, Moritz Lehmann, Maiwenn Herpe, James King, Magali Moreau, Olivier Ausseil (in pre-press, 2021). Towards Implementation of Robust Monitoring Technologies alongside Freshwater Improvement Policy in Aotearoa New Zealand. Environmental Science and Policy – available on request
Ross Monaghan, Andrew Manderson, Les Basher, Raphael Spiekermann, John Dymond, Chris Smith, Hans Eikaas , Richard Muirhead, David Burger, Richard McDowell (2020). Quantifying contaminant losses to water from pastoral land uses in New Zealand II. The effects of some farm mitigation actions over the past two decades. NZ Journal of Agricultural Research
To assist with the implementation of the five-step process a range of information repositories, decision support tools and modules were created. All are hosted on the Atlassian Confluence online platform. Access can be provided on request. Please note that a reasonably high level of end-user technical proficiency was assumed for the initial outputs.