A new science-backed website enables Māori agribusinesses to identify the priority actions that will support them to meet their goals for healthy whanau, whenua, awa and profit.
The Kohuratia website asks Māori agribusinesses to enter data about their values, current performance, capabilities and capacity. The tool then generates from this data a series of priority actions in key domain areas.
The research, which is part of the Our Land and Water National Science Challenge, identified four core Māori values that shape and constrain Māori farming (see image above).
Through a quantitative survey of 28 Māori agribusinesses, researchers in the Whenua Life Values project then looked at whether there was conflict and trade-offs between the environmental and social values. The research determined that these values work together, in synergy.
"Profit goes with environmental performance, which goes with social performance, which goes with the performance of your leadership and management," says lead researcher Dr John Reid, of the University of Canterbury. "They're a bundle that work together."
Māori agribusinesses that experience strong whai rawa (wealth generation) also exhibit growth in mauri (health) of their whenua, improved manaakitanga (social connections and relationships), and have more effective mana whakahaere (governance). Identified correlations include:
Strong whanaungatanga (connections among people) correlates strongly with profitability, and whenua health
Increasing whenua health correlates with increasing profit
Effective mana whakahaere (governance) correlates strongly with profitability and increasing land health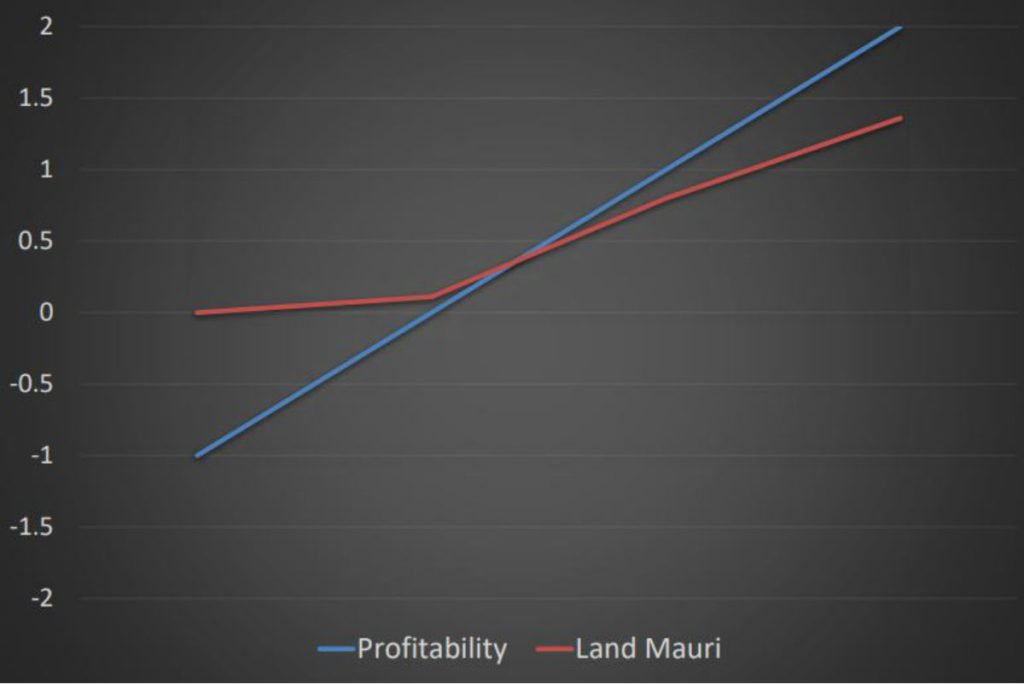 This research also identified five central 'domain areas': the most important areas that determine the success or failure of an operation. These are: access to capabilities, access to working capital, pathways to market, positive relationships, and the capacity to overcome regulatory constraints.
Researchers then combined these 4 core values and 5 domain areas into an indicator matrix for measuring enablers and constraints on Māori agribusinesses.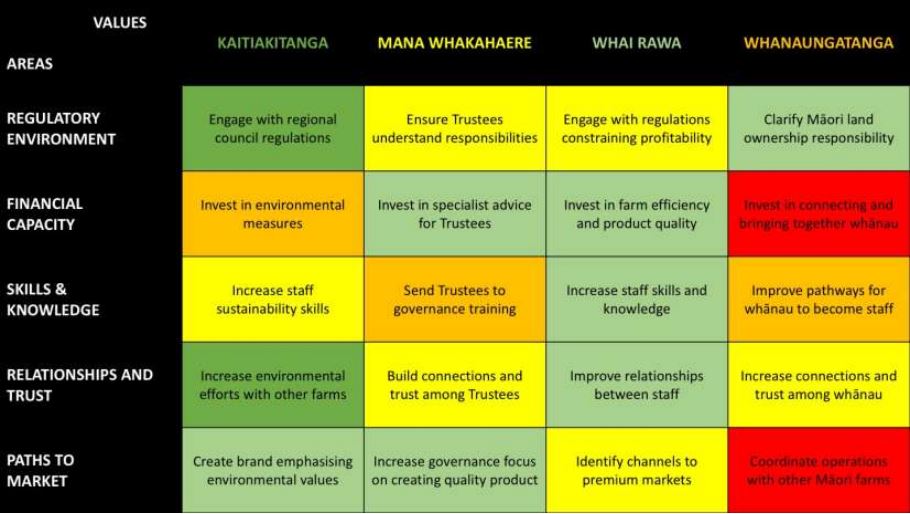 This matrix underlies the Kohuratia website, to generate priority actions to optimise economic, social, and environmental outcomes, while staying true to core values.
The Kohuratia website is being used by 5 Māori Land Trusts that will provide feedback on its efficacy and to identify ways to improve its function. Testing will then roll out across Māori Land Trusts and incorporations with Dairy NZ. There is also interest in the tool from Te Puni Kōkiri and the Ministry for Primary Industries.
The online tool is freely available for agribusinesses not involved in testing. Tauiwi (non-Māori) agribusinesses are welcome to use the tool and will find it mostly relevant, says Dr Reid, although some questions are specific to land trusts that come under the Te Ture Whenua Māori Act.
This research has been done within a kaupapa Māori framework, because Māori agribusinesses experience unique opportunities and limitations as a result of competing market, legislative, cultural and social drivers and values. As more land is returned to iwi and hapū through Treaty settlements, Māori land entities are exploring how to provide for their shareholders while upholding core values and principles. The Māori agricultural sector is therefore crucial to the development of future agribusinesses that restore the wellbeing of whanau, whenua and awa.
—
For more information, see: