PROJECT DETAILS
Challenge funding: $250,000
Research duration: July 2017 – December 2019
A key indicator of swimmable water quality in New Zealand's lakes and rivers is the minimal presence of E.coli (Escherichia coli). This bacteria naturally occurs in the gastro-intestinal tract of animals and its presence in water generally indicates faecal contamination, which can make humans sick.
However, E. coli can also be present naturally in soil and water, with no risk to human health (non-pathogenic). The presence of this naturalised Escherichia, rather than faecal contamination, may cause some waterways to fail to meet water quality standards. Faecal Source Tracking research identified potential sources of faecal contamination impacting waterways in New Zealand, and investigated the presence of naturalised Escherichia.
The Faecal Source Tracking project used DNA sequencing to identify 23 strains of E.coli that are not associated with risk to human health. This work is a significant contribution to the evidence base that ensures New Zealand's water quality standards for "swimmability" are appropriately protective of human health and recreational values.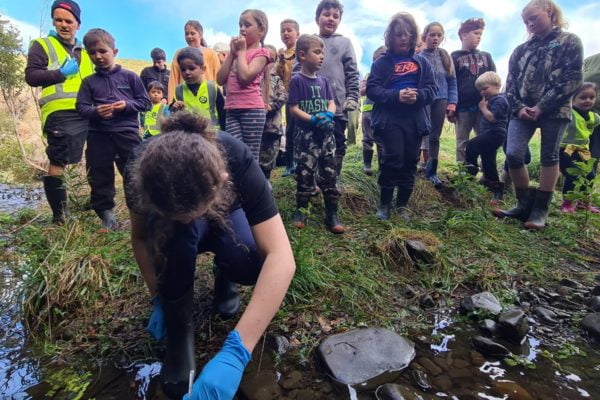 The source of the Manawatū River, hidden away in the Ruahine mountain range, is a ...
VIEW ARTICLE

→
How Can The Research Be Used?
Using microbiological culture methods, Faecal Source Tracking researchers found naturalised coli at several sample sites, including those in water catchments situated in closed canopy native bush with intensive pest management. In catchments with agricultural land use, E. coli originating from the gastro-intestinal tract of warm-blooded animals predominate.
This project's genome sequencing data of 23 naturalised Escherichia strains suggests they represent a distinct evolutionary population. Faecal Source Tracking researchers have sequenced the genomes of a further 218 coli, and sequenced over 1.1 billion DNA base pairs.
Further work identified traits that may be used to rapidly distinguish naturalised Escherichia from coli associated with faecal contamination, for use by stakeholders and catchment communities to establish water quality and ecological health of freshwater environments. This work will contribute to robust risk assessments and help ensure targeted mitigation steps are implemented.
This research will continue for a further three years following a successful bid for Smart Idea funding through the 2019 Endeavour Fund. This further research is titled 'Novel discriminatory tests for E.coli to improve water quality assessments'.
Trapping in Mākirikiri Reserve
Good Nature blog, 16 November 2020
"As well as this valuable research the aim of Te Kauru is to have the river returned to its original purpose as a place of mana and pride for the region"
VIEW ARTICLE →
Early dialogue with iwi and Regional Councils at an initial hui identified project sampling sites and social processes to underpin stakeholder engagement. Long-term aspirations for co-developing solutions, such as tools for assessing land-use suitability, were agreed beyond the life of the current project.
Faecal Source Tracking researchers participated in the Citizen Science Community Freshwater monitoring day at Pūkaha Mount Bruce organised by Landcare Trust NZ. This provided an opportunity to provide information on the project to members of the public, Fish & Game and Horizons Regional Council.
This research team contributed to building the capabilities of future researchers by partnering with the Pūhoro STEM Academy to support the students' science study with emphasis on water quality measurements and te ao Māori, through internships, field studies and lab analysis opportunities. >>Read more
Have a Question?
We are happy to answer any questions about this research and how it can be used.
Please fill in the form below
Thank you for your enquiry. Your question may require information to be gathered from the research team, so please anticipate that it may take us up to 10 days to prepare a reply.
We appreciate your interest in our research.