Place-based research to develop evidence-based examples of how agribusinesses and communities can make enduring changes in land use, management, value chains, and market focus to revitalise te Taiao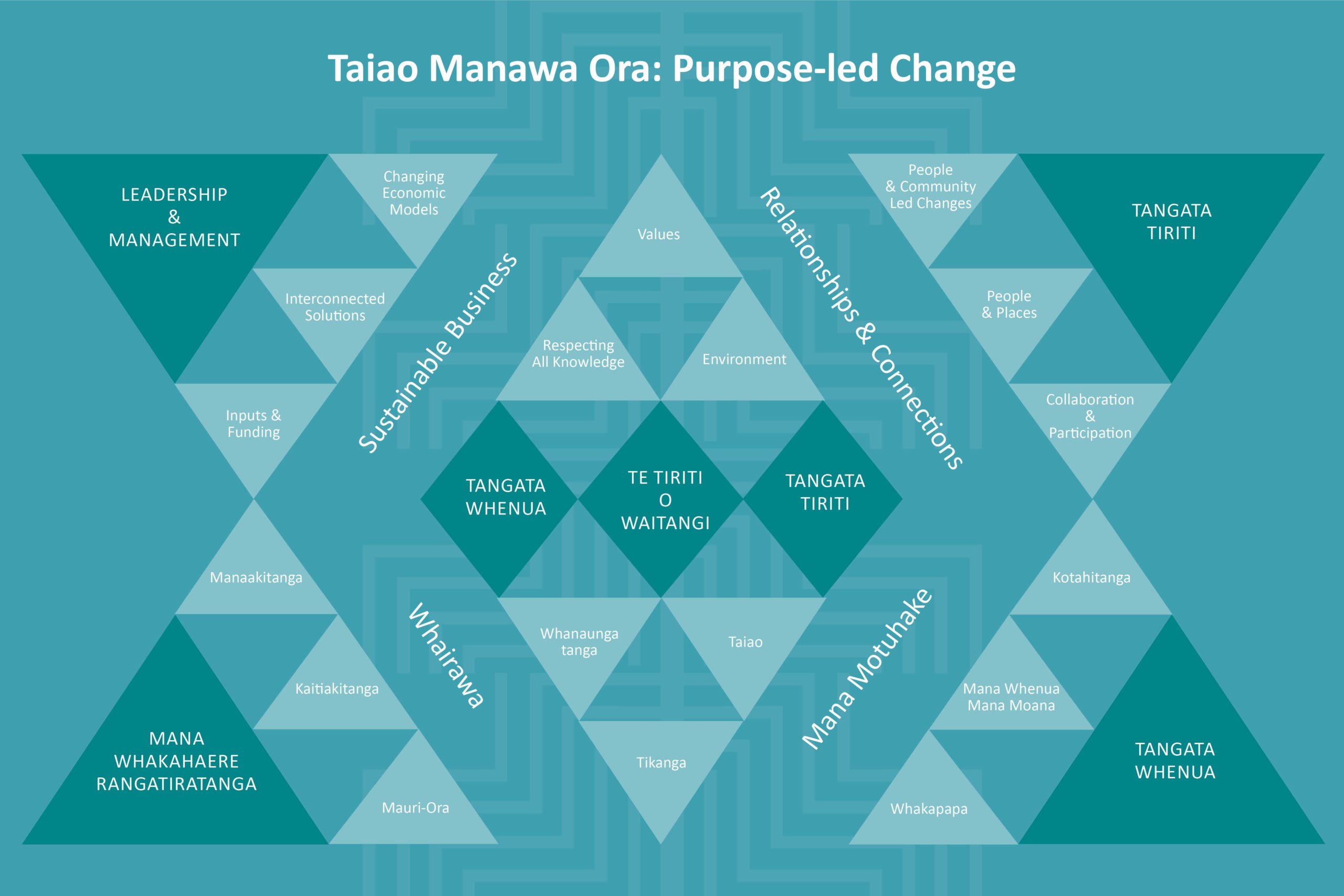 PROJECT DETAILS
Challenge funding: $8,000,000
Research duration: January 2022 – June 2024
E ngā mana, e ngā reo, nau mai piki mai kake mai ra ki te waka Taiao e toia nei ngā ohāki kia toitū te whenua, kia toiora te wai. Ko ngā tikanga o te Tiriti o Waitangi e paihere i te kaupapa whakarauora Taiao, kia eke panuku, kia eke tangaroa, te kaupapa rangahau o Revitalise te Taiao. Whai oranga mauri ora.
Food producers all over the world are facing connected challenges: the health of soil and water, climate change, and changing customer expectations. We can respond to these challenges in a uniquely Aotearoa way by implementing Te Tiriti o Waitangi principles in all efforts to help revitalise te Taiao – the land, water, climate, and biodiversity that contains and surrounds us all.
The motivation for change starts with 'sense of place', where people feel they belong. For Māori, connections and whakapapa back to the whenua are interlinked with identity, health, and wellbeing. This research will work in three locations alongside agribusinesses and communities as they progress land-use change, work with value chains and connect with markets to revitalise te Taiao. Respecting that all knowledge starts as local knowledge, solutions will be tailored to fit the local context of production, economy, community, and environment.
Te Tiriti o Waitangi principles of partnership, participation and protection are central to this research.
How Can The Research Be Used?
Inspiring and practical examples of communities and agribusinesses moving along the pathway to revitalise te Taiao will be highlighted. The research will provide evidence to guide actions to enable other communities and agribusinesses to take a similar journey.
Agribusiness entrepreneurs and innovators will work side-by-side with scientists to progress te Taiao pathways, understand these journeys, and create change beyond the programme.
This programme aims to understand what land use, management, value chain and market opportunities can be identified if agribusinesses and communities begin with te Taiao. The work of the three pilots will be connected with value chains that are willing to put te Taiao at the centre, to explore whether this resonates with consumers and enables producers to gain a premium for their products.
The research team will develop principles for land-use change that enable agribusinesses, mana whenua, farmers, growers, and communities to take collective responsibility for revitalising te Taiao. External conditions that are needed to achieve widespread and significant change will also be identified.
The research will produce evidence of how specific markets respond to te Taiao narratives based on connection to people, place, and indigenous knowledge.
The research team will gather data from interviews, surveys, observation, and participation to understand the values, beliefs, and practices that underpin collective understanding, motivation, and action to revitalise te Taiao.
The National Science Challenge funding allocated to the Revitalise te Taiao programme has seen three place-based research ...
VIEW ARTICLE

→
Participation & Engagement
Participants in the pilot project include mana whenua, farmers and growers, agribusiness innovators and entrepreneurs, and researchers.
Te Tiriti o Waitangi principles of partnership, participation and protection are guiding the implementation of the Revitalise Te Taiao research internally and with the three pilots (Ngā Kaiurungi Taiao), which include tangata whenua and tangata Tiriti.
The research embraces diversity of knowledge and ways of knowing within different worldviews. Revitalise Te Taiao is mātauranga-led, science-informed, te Taiao-inspired research. We respectfully incorporate te reo Māori me ona tikanga values in how we communicate and engage.
This research was established under terms that prioritised inclusion in the three pilots of Māori agribusiness and land management. Revitalise Te Taiao was co-designed and co-developed by 25 individuals from across Māori agribusiness, mātauranga Māori practitioners, scientists, researchers, community leaders, government and industry representatives.
Participants from Māori business and community members have a diverse range of skills and experience, including kaupapa Māori, Māori-centered and Māori-led initiatives and research; and mātauranga Māori with respect to land and freshwater-based sustainable business.
Have a Question?
We are happy to answer any questions about this research and how it can be used.
Please fill in the form below
Thank you for your enquiry. Your question may require information to be gathered from the research team, so please anticipate that it may take us up to 10 days to prepare a reply.
We appreciate your interest in our research.