Kiwi farmers are creative and resourceful, often trying out new ideas and practices because they are curious to see what will happen.
As a science funder, we're used to hearing big ideas from scientists seeking research funding. But we wondered, how many promising ideas are stuck on one farm – or inside a farmer or rural professional's head? Loads, it turns out.
In May 2020, we launched the Rural Professionals Fund, with strong encouragement from the New Zealand Institute of Primary Industry Management. Its aim is to fund the rapid testing of innovative ideas that could create change for Kiwi farmers.
The Fund connects farmer innovations with the scientists who can assess them, and with rural professionals who can share them with other farmers.
The Rural Professionals Fund received 31 applications for its first funding round. The 15 projects selected encompassed a wide variety of farm systems, industries and ideas, tackling questions including:
Does pure, clean drinking water improve milk production in cows?
What horticulture and arable options are suitable for hill country?
Does regenerative-style farming produce higher-quality meat?
Should we grow more trees in pastures?
How do farmers make land-use change decisions?
Can we make it easier for farmers to prioritise mitigations?
What are the pros and cons of using drones for environmental monitoring?
The projects all have one thing in common: if the concept was proved, it could create benefit for New Zealand farming communities, our land, or our water.
Communicating the results of both successful and unsuccessful projects to the wider rural profession and farming community is a crucial part of the process. We've summarised the projects in a short magazine, so you can read about both the projects with promising results, and those that didn't prove their concept.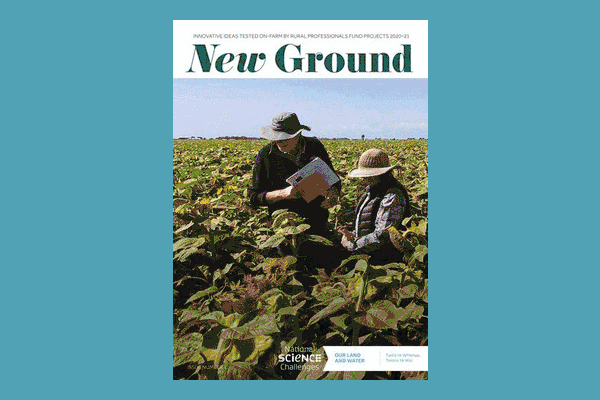 The projects in the pages in this magazine were each completed with $50,000 of funding from the Rural Professionals Fund; some received co-funding from other organisations, and all were boosted by the time freely donated by participants. Almost all the projects were completed within six months.
These were challenging limits, and we commend the project teams for doing so much, so quickly, within tight limitations.
A second round of the Rural Professionals Fund projects closed in August 2021, with 12 projects funded from 47 applications. This time, investment has been bumped up to $75,000 per project over a longer timeframe.
Two more funding rounds are planned, for late 2022 and 2023. Projects must align with the Our Land and Water objective: to improve Aotearoa's land and water quality for future generations, while enhancing the value of the primary sector to New Zealand.
From the Rural Professionals Fund, we hope to see concepts emerge that generate evidence and move into action quickly. We are particularly interested in projects that will help to diversify land use and practices, effect behavioural change and create new ways of doing things across the agri-food and fibre system.
The Rural Professionals Fund allows us to quickly explore a lot of options, and encourage and resource more innovators and entrepreneurs to test their good ideas.
We encourage you to submit your smart idea and explore new ground in the next funding round.
---
More information:
Sign up for our e-newsletter
Processing…
Success! You're on the list.
Whoops! There was an error and we couldn't process your subscription. Please reload the page and try again.