Take a guess at the largest organic sector in New Zealand. Are you thinking wine? Veggies?
The answer might surprise you – it's dairy. Although just 1% of New Zealand's dairy farms are certified organic, the export value of New Zealand's organic dairy products has grown 55% since 2017, found the recently released 2021/21 New Zealand Organic Sector Market Report from Organics Aotearoa. Last year organic dairy farmers received a payout of $10.19 per kilogram of milk solids, compared to $7.19 for non-organic.
Research from the Our Land and Water National Science Challenge suggests that consumers are willing to pay significantly more for certified organic products (31% price premium for red meat, 29% for dairy products).
The research also identifies opportunities where achieving one attribute, like organic production, can also produce other attributes, such as a reduction in carbon footprint and nitrogen leaching.
Of course, as the Organics Aotearoa report acknowledges (page 57), there are also very good reasons why only 1% of dairy farms are certified organic. There are persistent constraints, such as a lack of organic supplementary feed and expert veterinarians, and barriers of time, money, and expertise.
Fortunately, it isn't just organic certification that can add value to our food exports.
A new summary of research from four separate Our Land and Water research programmes suggests that changing practices on farms to meet new water and climate regulations could be turned into a marketing advantage in New Zealand's food export markets – with the potential to not only offset the cost of compliance but also significantly increase farm profitability.
Evidence gathered by the four research programmes shows that food shoppers in New Zealand's key export markets place value on many attributes produced by responsible farming.
Read more in Research Findings Brief: Consumers' willingness to pay for sustainability and other attributes (8-page PDF)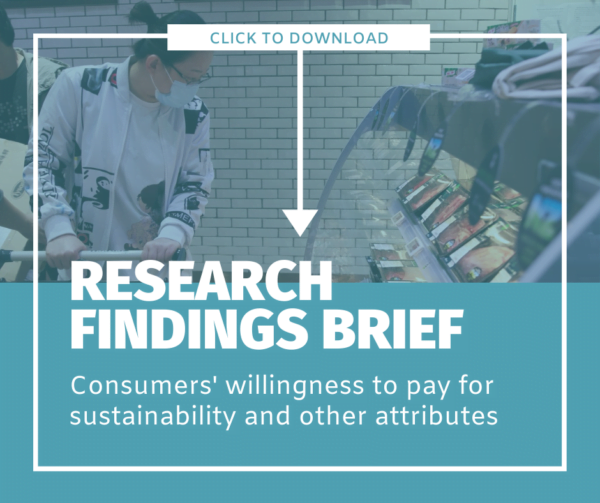 This "consumer willingness-to-pay" research provides evidence that our overseas food customers will pay a price premium for many product attributes, including some already produced widely in New Zealand – such as meeting high standards for animal welfare and food safety, hormone/antibiotic-free, grass-based, and even just the fact that it's made in New Zealand.
Known as 'credence attributes', these attributes are invisible to customers at the point of sale, except through product labels. This research is particularly valuable to marketing professionals, because it can inform product development, more tailored marketing of credence attributes to particular market segments, branding and labelling.
Credence attributes are strongly related to on-farm production, so it's crucial that a percentage of the premium retail price paid by an overseas customer makes its way back to Kiwi farmers as increased income. This return needs to cover the additional on-farm cost of producing the credence attribute, and be enough to motivate more farmers to make changes to their farming systems or adopt new practices and technologies.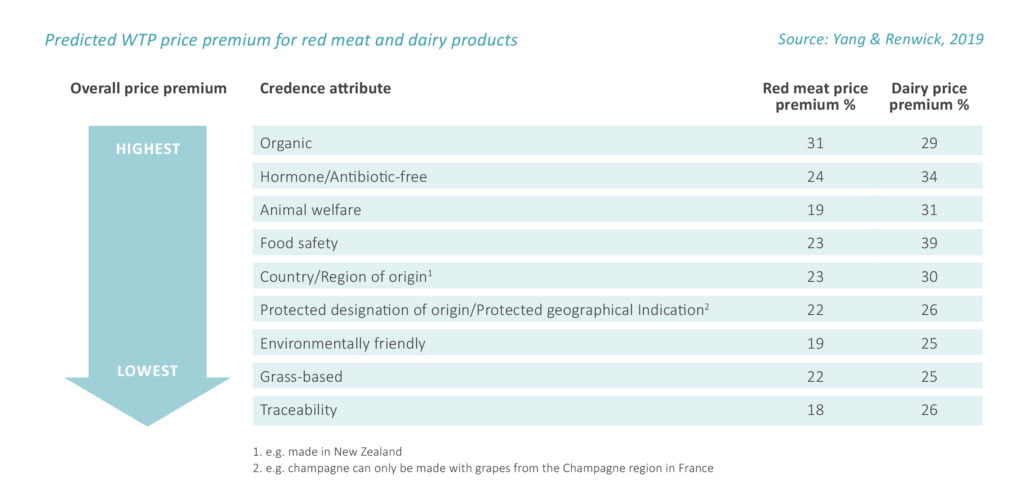 Does the research reflect reality?
Willingness-to-pay research uses 'choice experiments', where consumers choose from a range of products with different attributes and prices. From those choices, researchers can deduce which attributes are the most important, and determine the associated price premiums. Such experiments are particularly useful for testing products not yet available on the market, such as carbon-neutral meat.
This type of research can be validated by also looking at actual payments for the same or very similar goods. Supermarket data confirms that consumers are willing to pay a higher price premium in the real world, although less than in hypothetical situations.
___
More information: