Identifying next generation primary production systems and opportunities to change the face of farming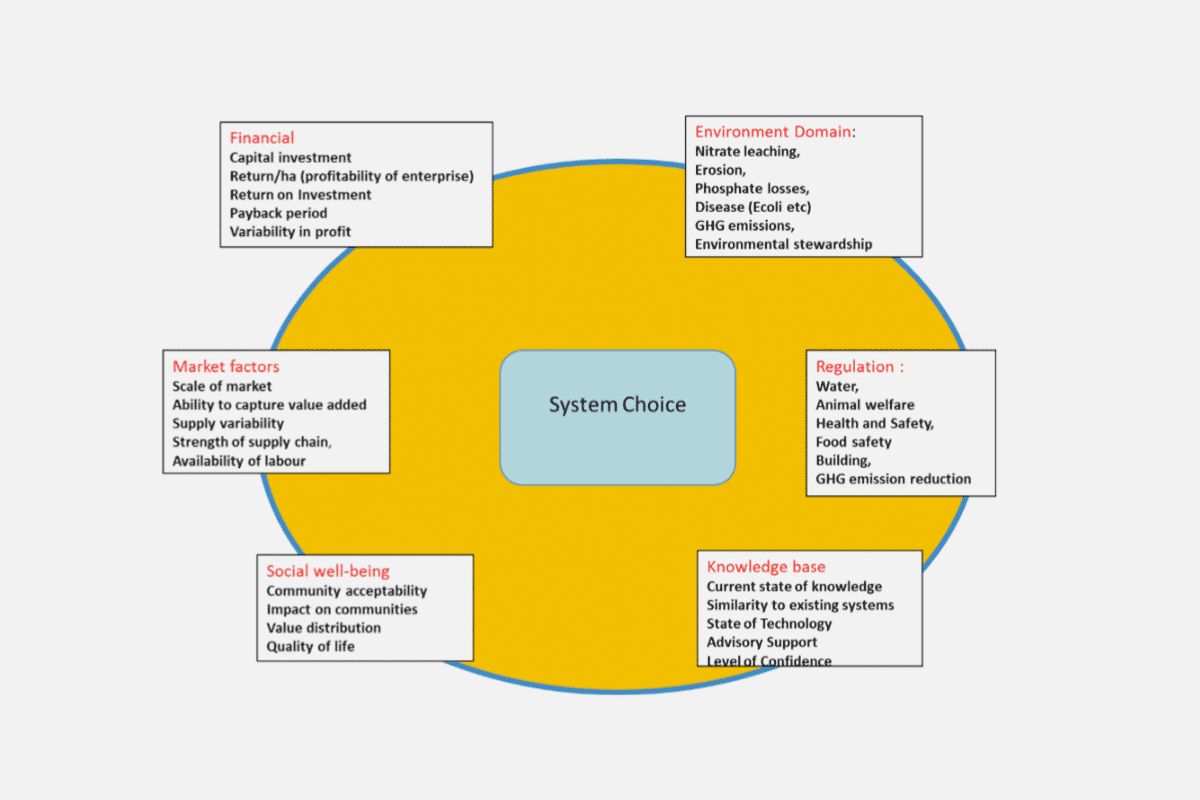 PROJECT DETAILS
Challenge funding: $2,000,000
Research duration: July 2016 – June 2019
Primary production industries are constantly changing in response to external factors like new market opportunities, technological innovation, regulatory limits and consumer demands. These external forces for change have intensified, and will likely continue to intensify.
Next generation production systems are needed to enable primary producers to respond to these pressures, while increasing the value of their products and improving environmental performance. Land managers need new and diverse land use options to deliver faster and greater benefits to land owners, catchments and international markets.
Next Generation Solutions research addresses this need for a step change in land use. While currently perceived as a threat by many landowners, this imperative for change will inevitably create new opportunities and innovations.
Next Generation Solutions has systematically analysed, then developed potential land use mixes and new systems of primary production. The research team has partnered with innovative farmers, growers and foresters to co-design, de-risk and implement novel production systems that are feasible and practical in the eyes of the rural community. We will critically evaluate these novel systems and address barriers to adoption.
Our goal is to produce a diversity of high value food and non-food products that meet environmental, social and cultural expectations.
How Can The Research Be Used?
An NGS Assessment Framework has been developed using multi-criteria decision-making to simultaneously consider multiple domains where selection of best alternatives is highly complex. The approach recognises that for land owners and managers, land-use change is primarily a business decision, but is influenced by other drivers. The framework can be used by land owners and managers to explore opportunities for next generation systems for their business and to identify gaps in their knowledge. The emerging value of the framework is beyond its original scope, for example in understanding the difference in values within Māori agribusiness between managers, supervisors and governance members.
The Next Generations Systems team is now identifying where our partner enterprises can de-risk and accelerate the adoption of land uses that represent a transformation from their current state. We are providing access to specialist knowledge and developing plans for targeted trials, monitoring and evaluation.
Next Generation Systems has partnered with Rotomā No.1 Inc to assist in determining priority values for the transformation of land within a sensitive catchment which is in a staged land clearance. The iwi has a vision for a new approach to land use which meets values across multiple domains. Our researchers have contributed science knowledge and networks, and international connections to source new knowledge and genetic material.
As our partners implement novel production systems, we will critically review knowledge gaps and barriers to adoption.
Farming for our Future
NZ Geographic, Mar–Apr 2018
"We often hear about our top farmers who are optimising their production, but there's a step beyond optimising for production, to optimising for the environment they're in" – Robyn Dynes
VIEW ARTICLE →
Next Generation Systems has sought guidance from a diverse range of farm consultants and rural professionals across dairy, beef, sheep, cropping, horticulture and forestry sectors to identify farmers and behaviours associated with transformative and optimised leading-edge enterprises. This has built a community of interest in Next Generation Systems, and a foundation for wider dissemination as the programme advances.
A Living Lakes Symposium (November 2017) presentation led to positive engagement from attendees and new connections with small-scale producers engaged in alternative land use crops.
Next Generation Systems lead Robyn Dynes contributed to discussion on what the future looks like for sheep, beef and arable systems at a Beef + Lamb NZ field day, attended by approximately 100 farmers in Hororata. There was strong interest in Next Generation Systems and its framework development.
A Sheep Viticulture workshop (9 September 2018) with farmers, industry leaders and global investors discussed gaps and opportunities in integrated livestock-cropping systems.
A one-day workshop, 'Drivers for and Barriers to Land Use Change' (August 2018) for the New Zealand Agricultural Economics Society was attended by over 40 people from wide range of organisations across government, industry and research.
A workshop with farmers from Central Plains (December 2018) was held to explore opportunities and gaps in knowledge for farmers driven to land use change by availability and cost of irrigation water. The workshop has identified both potential opportunities and gaps in knowledge for research to investigate.
Have a Question?
We are happy to answer any questions about this research and how it can be used.
Please fill in the form below
Thank you for your enquiry. Your question may require information to be gathered from the research team, so please anticipate that it may take us up to 10 days to prepare a reply.
We appreciate your interest in our research.