Register of Land Management Actions
What's been done? A national record of land management actions to improve water quality and restore catchments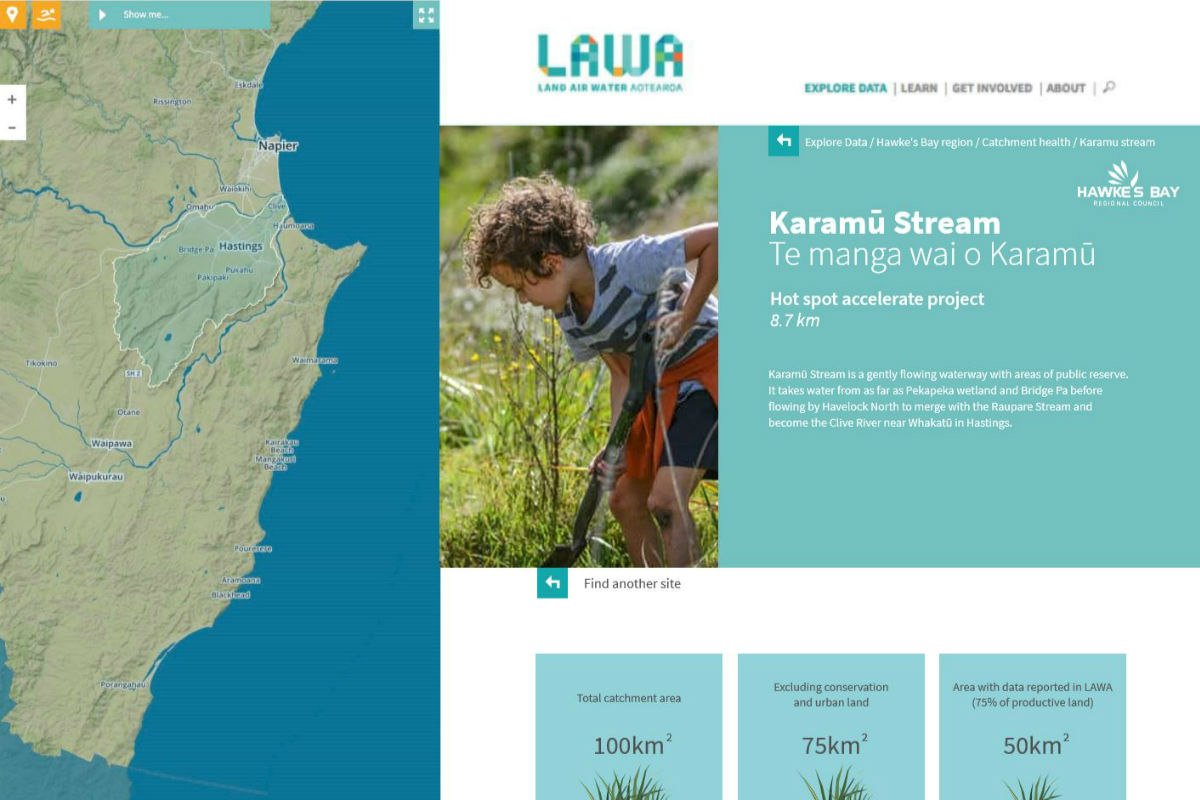 PROJECT DETAILS
Challenge funding: $1,750,000
Research duration: December 2018 – June 2022
In Aotearoa we care for the health of our rivers, lakes and wetlands, which is why we adopt land management actions that help improve water quality.
However, some of our waterways are not in good shape. Over the last decade, we planted trees, fenced riverbanks and changed grazing and fertiliser management practices to improve the situation – but we are not consistently recording what has been done to enhance waterway health.
To find out which actions work best, we need to start recording land management actions and link them to water quality outcomes.
The Register of Land Management Actions will create a free online tool to record efforts to improve water quality within each rural catchment. The register will give people all over New Zealand greater awareness of the efforts underway to improve our fresh water, and a clearer picture of how far we have come.
Our goal is to give landowners confidence to invest in the most efficient actions, accelerating investment in catchment improvements.
How Can The Research Be Used?
The National Register of Actions will create a free online tool that complements the Land Air Water Aotearoa (LAWA) platform. You can view a mock-up of how this may look.
The project is structured to build on and combine existing recording initiatives by farmers, growers, iwi and hapū, primary sector bodies, community groups and councils, including actions implemented through farm environment plans.
The tool that is ultimately developed will improve our ability to link actions on land, with changes in water quality at monitoring sites. It will display information in a way that reflects the combined effort in a catchment, showing the extent and intensity of the actions. This will enable people in one catchment to make comparisons with other catchments, to see what has worked elsewhere and over what timeframe.
The register is not a compliance tool, and is being designed so it can't be used in this way. The register is intended to record all actions taken to improve water quality, not just those driven by regulation.
The register will present information at a catchment scale, recognising the confidentiality and privacy of individual property owners. We will demonstrate in pilot catchments how the tool can be used to display actions at the catchment scale throughout New Zealand.
The research will link with other projects on transitioning to a more sustainable future, including research into catchment community and iwi groups, and sustainability marketing.
Want to share your story?
If you are part of an organisation or catchment group that has been restoring your catchment, and you want to see your collective efforts, please let us know. We will send occasional updates and an invitation to participate when the technology is ready.
Farmers and growers are helping the research team understand what forms of data would be useful, how it may be presented, and what types of information should be included (and excluded, such as sensitive business and iwi/hapū data).
Māori stakeholders are helping researchers identify opportunities for the register to reflect their expectations as kaitiaki.
A steering group with representatives from NZ Landcare Trust, Dairy NZ, Beef + Lamb NZ, Waikato Regional Council, Taranaki Regional Council, Horizons Regional Council, Environment Canterbury, Our Land and Water, Fertilizer New Zealand, Department of Conservation, Ministry for the Environment, and the Ministry of Primary Industries has overseen the scoping of this project and will continue its oversight role.
Have a Question?
We are happy to answer any questions about this research and how it can be used.
Please fill in the form below
Thank you for your enquiry. Your question may require information to be gathered from the research team, so please anticipate that it may take us up to 10 days to prepare a reply.
We appreciate your interest in our research.