Developing a holistic decision-making framework for evaluating land use opportunities.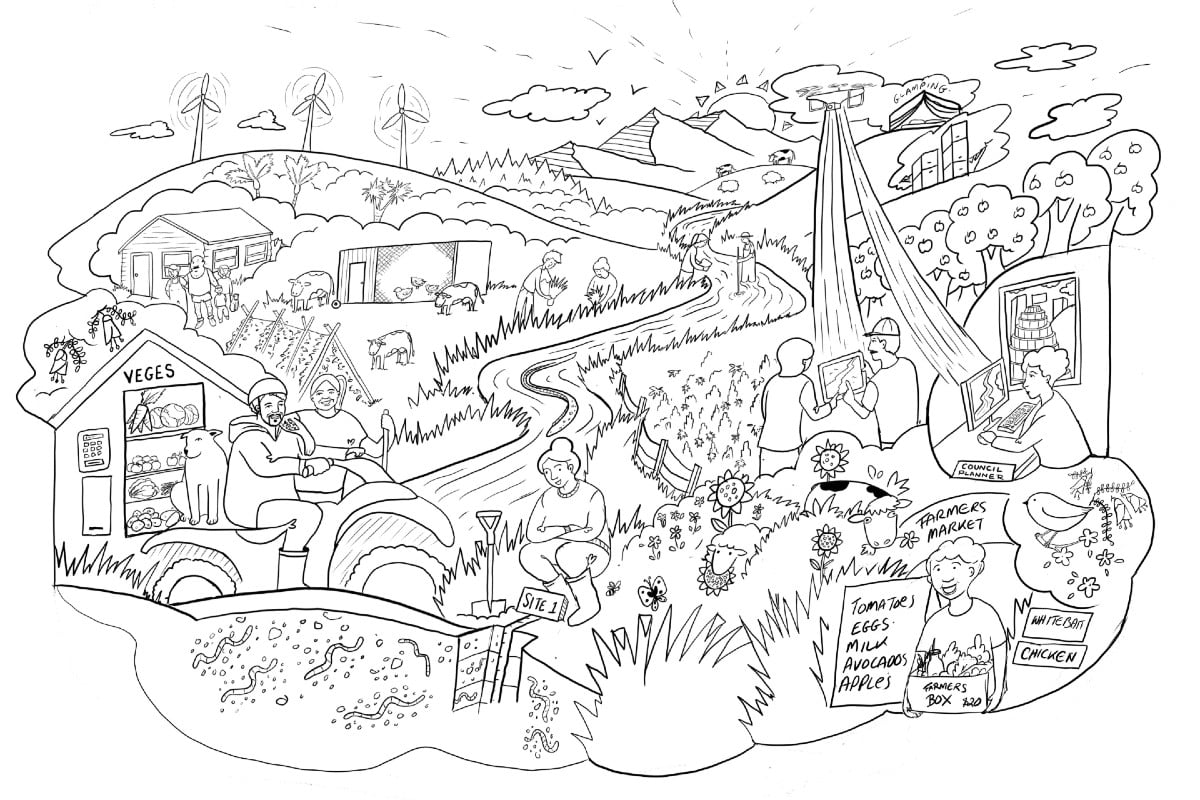 PROJECT DETAILS
Challenge funding: $9,000,000
Research duration: May 2020 – June 2023
Land Use Opportunities: Whitiwhiti Ora will help land stewards assess diverse land use opportunities and make decisions with confidence that both the whenua and its people will prosper.
To become better land stewards, we need to bring the right information together so we can make smarter decisions about our land use. To improve the vitality of te Taiao, we will embrace ancestral knowledge about listening to the land, and integrate this knowledge with technology and science.
Some excellent knowledge, data and tools are available to help make decisions about land use, but there are also some big gaps. Our research will bring together biophysical, cultural, social and economic information to help fill some of these gaps.
The vision for this research is to identify a much greater range of suitable land opportunities and a greater diversity of benefits for New Zealand.
ILLUSTRATION: Land Use Opportunities: Whitiwhiti Ora draft vision. Sketch by Yasmine El Orfi
How Can The Research Be Used?
Researchers will identify and analyse a much greater range of food and fibre than we currently grow. This research is needed because some land use change in New Zealand will be necessary to respond to our changing climate and policy.
The aim of this research is to help land stewards prioritise the most suitable crop options for their land, by providing a holistic understanding of the benefits and consequences of the options.
The programme will identify the pressures faced by land, water and people: contaminants (nitrogen, phosphorus, e.coli, sediment), greenhouse gas emissions, adapting to a changing climate.
The programme will give the fullest possible picture of the benefits of diverse land options, by using a broader range of indicators and data sources than has been used by Western science previously. Research will include standard indicators, such as economic returns, soil type, climate and topology, and integrate broader measures of wellbeing. These may include: biodiversity, recreation (swimming, fishing), mahinga kai, resilience to change, health benefits, surrounding communities (eg schools), intergenerational benefits.
The research will develop a data "engine room" that would connect into a range of external interfaces, including the interface co-developed in Pohewa Pae Tawhiti.
This research builds on the work completed by the Land Use Suitability programme.
Mapping surface erosion on a national scale
Farmers Weekly, 7 December 2021
"Working together, we can use the farm management scenarios to estimate the change in soil losses when each paddock is grazed at a specific density by a particular stock type. This goes beyond understanding the land and towards an understanding that includes the interaction between animal grazing intensity, physics and the land's susceptibility."
VIEW ARTICLE →
Farming for our Future
NZ Geographic, Mar-Apr 2018
The question of how best to use our land is one of the most important of all. If we treat it right, it will return the favour. If we abuse it, it will sicken and fail. And with it, businesses, communities, economies and ecosystems.
VIEW ARTICLE →
The research team will work with case study partners that represent specific catchments and regions. Relationships are being built with Te Arawa land entities, groups in the Wairoa catchment in the Hawke's Bay, and a catchment dominated by dairy in the South Island.
This research programme will partner with agencies that already have farmer-facing decision-support tools (including risk assessment tools used by the banking sector) so that the information provided from this research has a conduit to a wider audience.
Have a Question?
We are happy to answer any questions about this research and how it can be used.
Please fill in the form below
Thank you for your enquiry. Your question may require information to be gathered from the research team, so please anticipate that it may take us up to 10 days to prepare a reply.
We appreciate your interest in our research.