How do you tap into the desire for traditional taonga products in overseas markets while respecting the culture and protecting the environment? Taramea, a plant species native to Aotearoa that was highly prized by Māori and could be highly prized as an ingredient in the fragrance industry, provides an answer. By Ben Fahy
Commerce and culture are often uneasy bedfellows. When Dior launched a campaign for its new men's perfume Sauvage featuring Johnny Depp in the desert as a "white man laying claim to the wilderness" and plenty of Native American tropes, it was panned for racism, cultural appropriation and lack of authenticity.
But Dr John Reid (Ngāti Pikiao, Tainui), who earned his PhD by studying sustainability and Māori land development and was a leader in the Rewarding Sustainable Practices research, knows first hand that commerce and culture can work in harmony: as Ngāi Tahu's regional development manager, he redesigned the iwi's approach to pounamu, or greenstone and focused on traceability and cultural authenticity.
Now, innovating alongside Kāti Huirapa Rūnaka ki Puketeraki, he's looking to take the same approach with taramea, once again embracing the insights of Professor Caroline Saunders and Associate Professor Peter Tait around integrating value chains and the importance of promoting intangible 'credence attributes' if New Zealand wants to attract a premium for its food and fibre products.
In Brief
Taramea was considered to be a taonga by Ngāi Tahu and was often used as a gift. It was also used by those who harvested it and was traded.
The knowledge of how to produce taramea perfume was nearly lost to Ngāi Tahu as a result of colonisation, but an initiative starting in the late 2000s led to the revival of taramea perfume production.
Rather than allow taramea to be used by large international perfume companies, Ngāi Tahu wanted to protect the mana of taramea so it instead made its own oil. This was sold under the Mea brand and was aimed at international tourists.
When Covid struck, this market dried up, so Kāti Huirapa Rūnaka ki Puketeraki turned its attention to the international perfume market. It conducted research to find out which markets were most interested in the unique story, and distinctive cultural attributes, of taramea and how much extra fragrance consumers would pay for these attributes. In New York, it found a 72% premium over perfumes without those attributes among specific consumers.
Research was also conducted with Ngāi Tahu Māori to find out whether they wanted taramea to be sold internationally and the vast majority were in favour, as long as it was done in the correct way and didn't affect the mana of taramea or mauri of the environment.
Ngāi Tahu will now look to find the shared values between the owners and buyers when telling that brand story.
---
The natural habitat of taramea, which translates as 'spiny thing' in Māori and is also known as giant speargrass or Spaniard, is mostly found in the tribal area of Ngāi Tahu in the South Island.
The plant was traditionally harvested and processed by Ngāi Tahu to produce a prized perfume known as the 'fragrance of chiefs'. It was considered a taonga, or treasure, that was linked to prestige and status, and it was often given by one chief to another to cement connections between chiefs and hapū (clans). There are also accounts of infused taramea packages being used to adorn tūpāpaku (corpses) of important people.
Just like pounamu, the revered nature of taramea didn't preclude it from being harvested, used or traded, however. The harvesting needed to be conducted according to tikanga (literally 'right or correct way') and those who harvested it often wore the solid state perfume around the neck in a scent bag, a hollow piece of wood or bone, or a bunch of feathers, with the wearer's body heat melting it and activating the scent.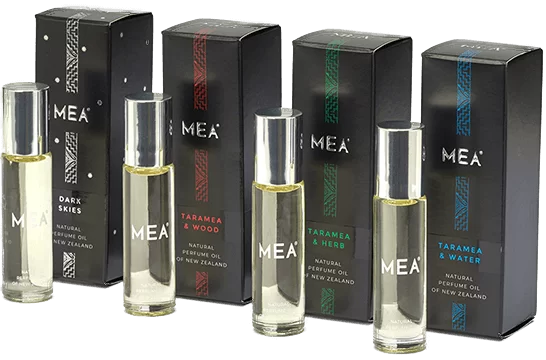 Rediscovering the art of fragrance
The knowledge of how to produce taramea perfume was nearly lost to Ngāi Tahu as a result of colonisation, but an initiative starting in the late 2000s led to the revival of taramea perfume production. The large French perfume company, Givaudan, was interested in partnering with Ngāi Tahu to use taramea in its products for the international market, but Reid says the traditional model of perfume companies was to offer a small commission while controlling everything else. Ngāi Tahu wanted to protect the mana of taramea so it instead took a more cautious approach and focused on making its own oil before developing a perfume.
In 2019, that oil started to be sold under the Mea brand, and the company developed strong marketing links with Ngāi Tahu Tourism, a logical business partner considering the number of tourists visiting iwi-owned attractions and their existing retail relationships.
The oil was sold through souvenir and gift shops across New Zealand, but the COVID-19 lockdown, which began in March 2020, meant international visitors were barred from entering. This highlighted the risks of establishing a taramea enterprise that was dependent on the tourism market.
As a result, in partnership with Taramea Fragrance Limited, a company owned by Kāti Huirapa Rūnaka ki Puketeraki, Reid and his team decided to turn their attention to developing a taramea perfume for the international market and conducted research to find out which markets were most interested in the unique story, and distinctive cultural attributes, of taramea.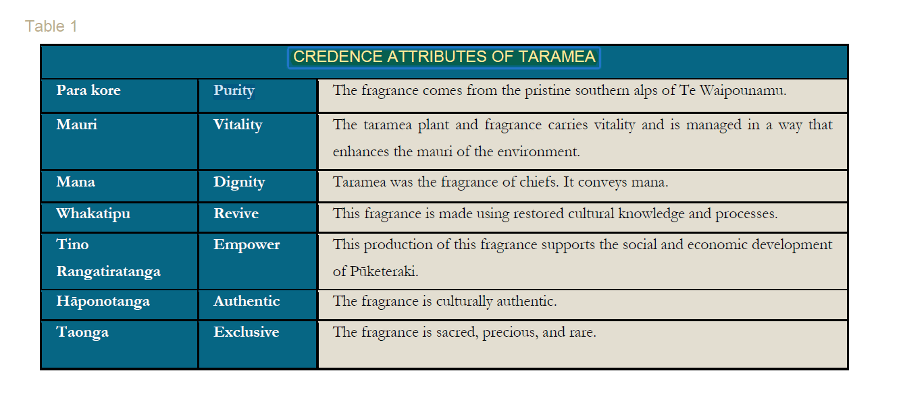 A nose for marketing
In terms of market size and share, Statista says that revenue in fragrances (perfume and Eau de Toilette) was projected to bring in US$52 billion in 2021 and the market is expected to grow annually by 3.5%. Scented products for the home went gangbusters during the pandemic, increasing by 6% in 2020. And trends in the fragrance industry mean the winds are at taramea's back.
Increasing numbers of customers have moved away from the big brands towards smaller artisanal perfume companies. These brands are often 'edgy', 'cool', 'understated', and even 'hipster' in their approach; they often choose natural and exotic ingredients rather than synthetics; and they have gained around 10% of the market in the past decade with many being acquired by larger companies.
Closely linked to this trend is the rise of provenance in perfume. Increasingly, consumers – particularly those in progessive urban centres – wanted a scent with an interesting and authentic story.
To zero in on the benefits of taramea, a workshop was held to identify the cultural credence attributes that were considered most important and would underpin the brand story.
A survey of mostly Ngāi Tahu Māori showed that 81% of the collective owners of taonga, such as taramea, supported the export of these products to overseas markets. However, 86% felt the special and valued status of taonga products should be reflected in the way they were produced, marketed and sold. Over 90% considered that giving authentic expression to the credence attributes across the value chain would ensure that its status of taonga would be maintained.
Those credence attributes were then put in front of international fragrance consumers in New York, London and San Francisco to see what they valued most and one market stood out. On average 74% of fragrance consumers in New York considered these attributes to be either important or very important and a follow-up Willingness to Pay survey determined that a product with these attributes could attract a 72% premium over other perfumes without these attributes with specific consumers.
Reid says Māori who were surveyed placed greater emphasis on mana and mauri, while New Yorkers placed greater emphasis on empowerment, maintaining cultural traditions, and authenticity. But the research showed there was a way to find a happy medium between getting a premium and respecting the culture.
The purpose of the taramea perfume venture is to provide financial returns to support the activities of Kāti Huirapa Rūnaka ki Puketeraki as well as providing . That is certainly one of the goals of the taramea project and because natural ingredients are more difficult to gather, they generate far more employment. But taramea is not just a business opportunity. Reid also sees it as a manifestation of Ngāi Tahu's past and a potential driver of cultural revival, which is why it's so important to take the time to get it right.