For Brenda Tahi, the chief executive of Manawa Honey NZ, honey is not the end. It's a means to an end; part of a value chain that extends from the land they manage to the people they support to the customers they eventually impress with their world-class products.
"We're the only honey from Te Urewera, so we're unique, and our honey is a foundation; a platform to develop our people and ultimately invest back in our people and our forest."
Māori enterprises tend to have a more holistic, long-term approach to business, where the economic benefits are shared among the members of the group and the impact on the environment and society as a whole is factored into the decision making.
Key Insights
Manawa Honey was set up by the Tūhoe Tuawhenua Trust and its primary goal was to develop its people and protect and enhance the forest.
The business is not focused on growing volume. Instead it focuses on driving value by telling the story about its unique provenance in Te Urewera and its environmental and social stewardship.
Labelled honey can sell for up to four times more than unlabellled honey.
Manawa Honey will launch new specialised, very limited edition honeys that focus on particular characteristics to maintain and grow the premium it currently gets.
Values will always trump value and it always thinks long-term.
Manawa Honey was founded by the Tūhoe Tuawhenua Trust, which holds 9000 hectares of lands about Ruatāhuna. Wild honey gathering, or te nanao miere, was an important part of the traditional culture so, in 2010, it decided to focus on producing honey commercially – both out of necessity and out of a sense of responsibility.
"We're not able to put roads on this land or cut down native trees. There's very little you can do because of its grade. We can't get onto most of the land, so we needed to send our bees there. It's also a water catchment for the Whakatāne River, and we didn't want to do anything that would affect that."
This understanding that Papatūānuku, Tane Nui, or Tangaroa (sea) provide for us and should be protected is at the core of Manawa Honey's values and these values have become a major part of its business strategy.
"Because we're developing our people as we go, every learning we impart or any progress we see in our staff is a milestone for us. We're now vertically integrated, and we're giving people different opportunities to work and learn in a business like ours that goes from land to brand."
Values driving value
Our Land and Water's Integrating Value Chains research shows that certain consumers in export markets are willing to pay more for products with certain intangible attributes, such as environmental stewardship, animal welfare or worker rights.
"We really push that kaupapa," Tahi says, and she estimates the labelled Manawa Honey would fetch around four times the value of unlabelled honey. And while the business is not set up to drive volume, it is set up to drive value.
"What we're about is exploring the range and quality of what we can do, so we're looking to produce more and more honeys where we can take different approaches based on say provenance or seasons."
That will mean producing very limited editions of honeys that come from particular places (hives have now been placed outside the original area in other parts of the 200,000 hectare Te Urewera in an effort to spread risk and produce honeys made up of different nectars).
"We want to get even more specialised …This provenance gives our honey a real edge that we don't taste in honeys from other parts of the country."
Or from other parts of the world: its Rewarewa honey won the Grand First Prize at the Black Jar International Honey Tasting Contest in America last year (judges taste the entries blind) and its honeys also won gold and silver medals at the London Honey Awards.
"The award in America gave us the mantle of the Best Tasting Honey in the World. It's amazing. We're up there with the best."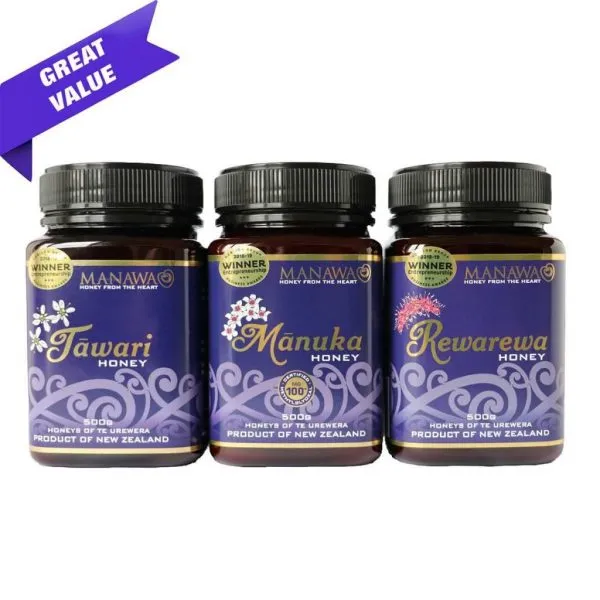 When there are a lot of producers in the market, the only way you can justify a premium is if you have something distinctive, Tahi says. A good product and good packaging is the bare minimum. Telling the story behind the product and why you create it is the important part.
"They need to be interested in you. If it's the same grade of honey and I can get it cheaper somewhere else, why would they pay more?"
Just as wine from different regions has distinct characteristics – or terroir, as it's often known – she says the honeys from Te Urewera have a particular combination of tastes. And when you add in the cultural, social and environmental elements, it is a story that people are drawn to.
Authenticity in branding
Professor Caroline Saunders from the AERU says Manawa Honey has built the kind of attributes into its brand to extract a premium – especially authenticity. She says lots of businesses are "telling a sustainability story or a Māori story, but they might have made that up last year because it's the latest thing.
"Authenticity is really important. They should be honest and create stories around what they really are and I think the market will appreciate that as it gets more sophisticated."
One of the main outtakes from Saunders' research is the importance of finding partners that share your values.
"You need a distributor that cares about the story and will only deal with retailers that care about the story. And it takes a while for those wheels to turn."
The potential premium producers can get if they decide to move from a supply chain to a value chain is a good way to incentivise partners to buy into the brand, she says, but given its long-term approach to doing business, Manawa Honey is very selective about who it works with and is willing to wait to find the right partners. It has stopped working with partners that don't share its values and it is currently working on distributing direct to customers in the US through its own website.
Growth and employment
Tahi says Manawa Honey has a medium-term goal of becoming a $3-4 million business that will employ around 25 people and it is currently building a new packhouse that will help it reach that goal. But values will always trump value and it aims to maintain its boutique feel.
"We've got a 100-year plan for our forest and really we should have a 1000 year plan because that's the timeframe the forest moves on …The kinds of things we would like to do for our people and our land, we can't do that quickly. We take our time to ensure we take our people with us and look after the forest as we go. So we're not in a hurry to do things. "
Photo credit: Scott Sinton, Hemisphere magazine